☄ The Waterboys & Mick Puck Facebook Group ☄
The newest and best Facebook group The Waterboys & Mick Puck was created by two genuine lifelong admirers of the band.
This group was created for YOU the fan as a place of friendships where your opinion and input are greatly valued.
You will find all the latest news, photos, videos, memorabilia, Exclusive Group Competitions and much more besides. The page is already laden with unseen treasures that will not be found anywhere else online, with much more to come.
So why not join us and be a part of something truly special? All Aboard! The Waterboys & Mick Puck - Facebook Group - Click Here!
☀Memorabilia ☀
This page contains various bits and pieces of Waterboys Memorabilia for you to peruse at your leisure.

*Check back here regularly as the Memorabilia page shall be continually updated with various bits and pieces.*




☀ Tour Page: ☀
Please check out the Tour page for all the latest Live dates! Click Here!




☀ Vintage Merchandise Page: ☀
To see some various pieces of official merchandise from previous Tours please Click Here!


☀ Past Competitions Page: ☀
To read about the previous Fan Site exclusive Competition Giveaways please Click Here!



☄ Signed Green Alliance Booklet ☄

A signed Green Alliance booklet from the two Waterboys concerts in the Olympic Ballroom, Dublin in October 1987.

Thank you Dave Furneaux.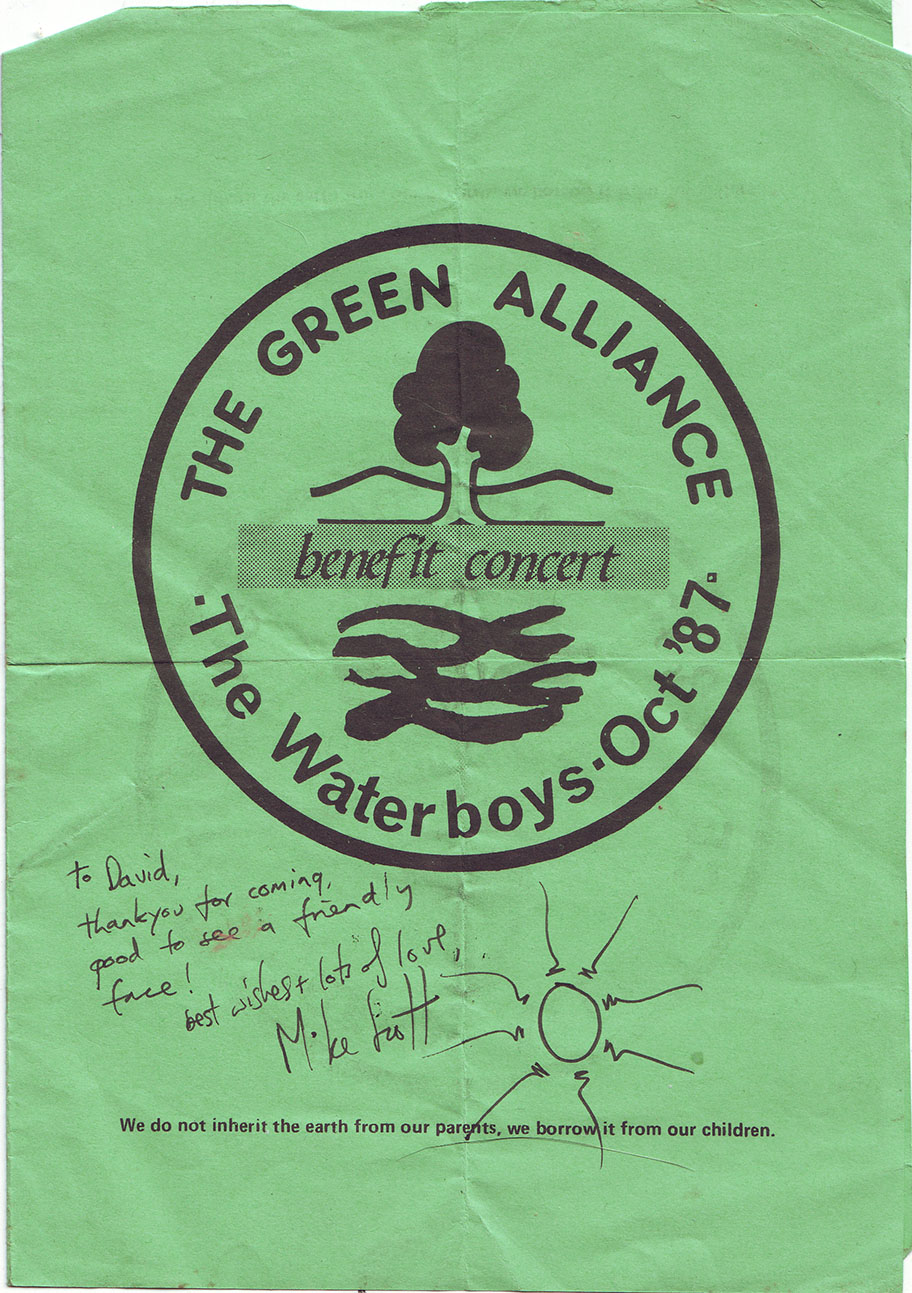 ☄ Vintage Newspaper Collage ☄
An A1 sized collage created from vintage Irish, Scottish and English newspapers.
Thank you Peter Merrigan.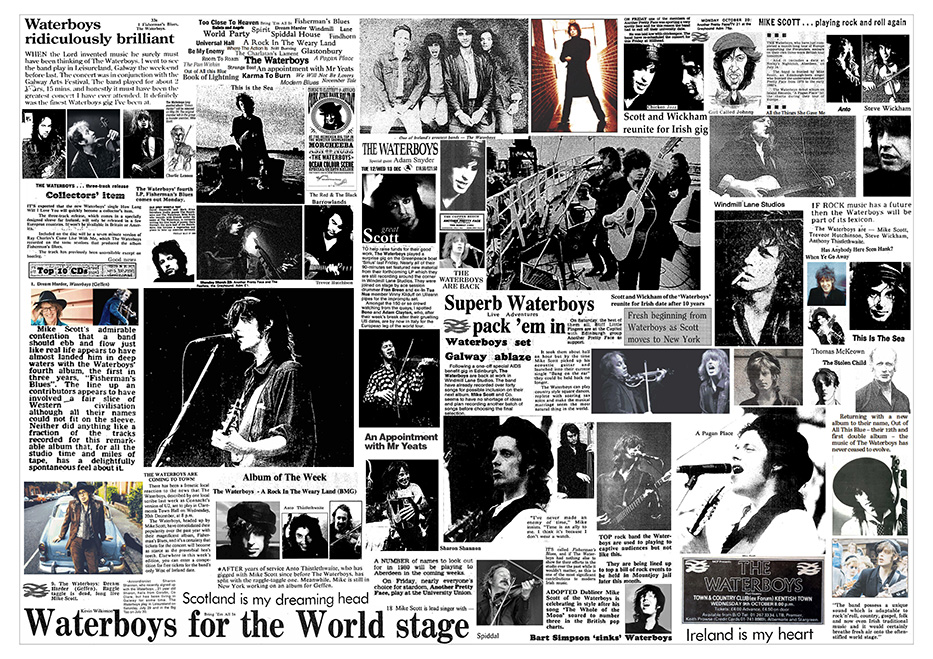 ☄ December white label 12-inch Promo ☄
A scarce USA white label promotional 12-inch single of December from 1983. It features full and edited versions and plays at 33 1/3 RPM.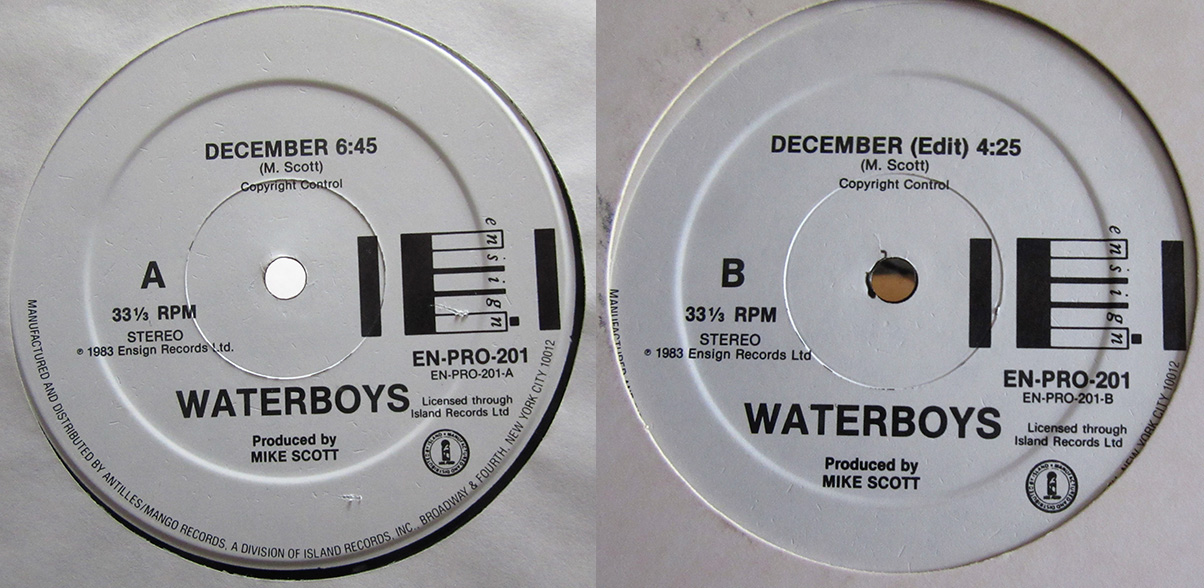 ☄ How Long Will I Love You? - Irish Sleeves ☄
The Irish 12-inch and 7-inch singles of How Long Will I Love You ? housed in very unique sleeves and quite difficult to find these days.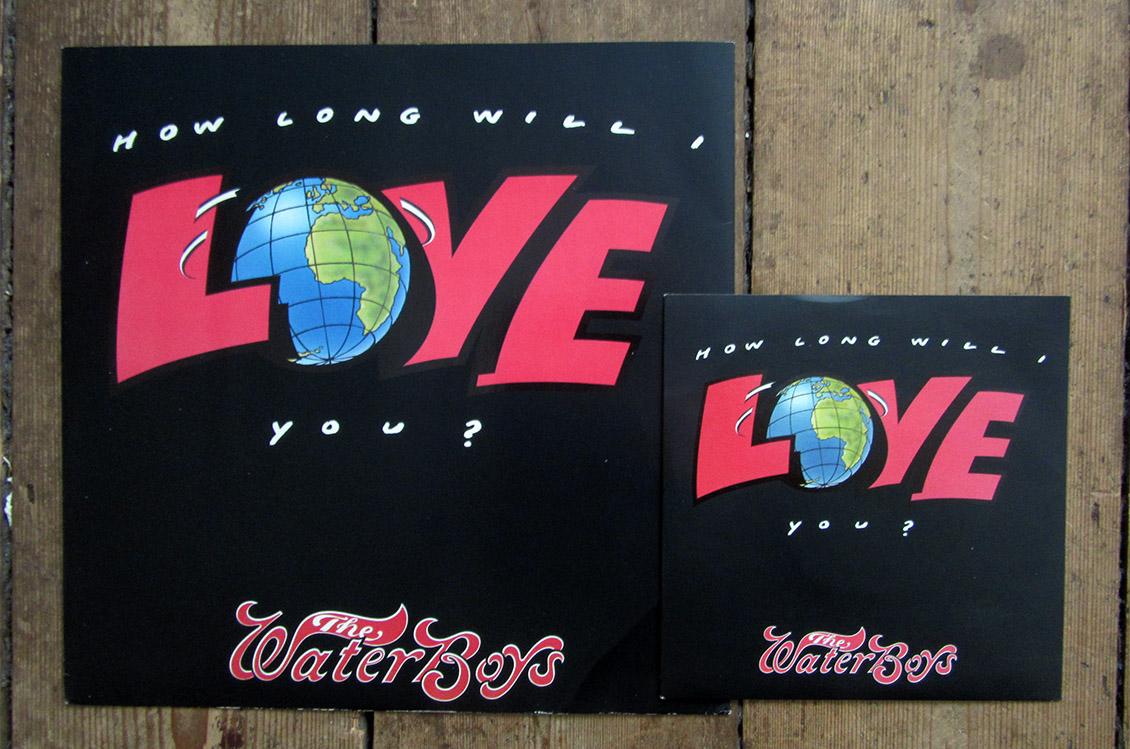 ☄ Complete Early Mike Scott Collection ☄
This is a complete collection of the early releases from Mike's early bands.
Treasures shown are the Another Pretty Face singles of 'All The Boys Love Carrie' first pressing (1000 copies) in a green poster sleeve and the second issue (5000 copies) in a red sleeve.
The DNV 'Death in Venice - Mafia' single in a poster sleeve.
The APF 'Whatever Happened To The West' single.
And the APF singles 'Only Heroes Live Forever' and 'Soul to Soul' both of which are in poster sleeves.
The Funhouse 7-inch and 12-inch of 'Out of Control'.
And lastly, the very rare 'I'm Sorry That I Beat You' APF cassette and booklet in a pink sleeve.
Thank you Ali Wilson.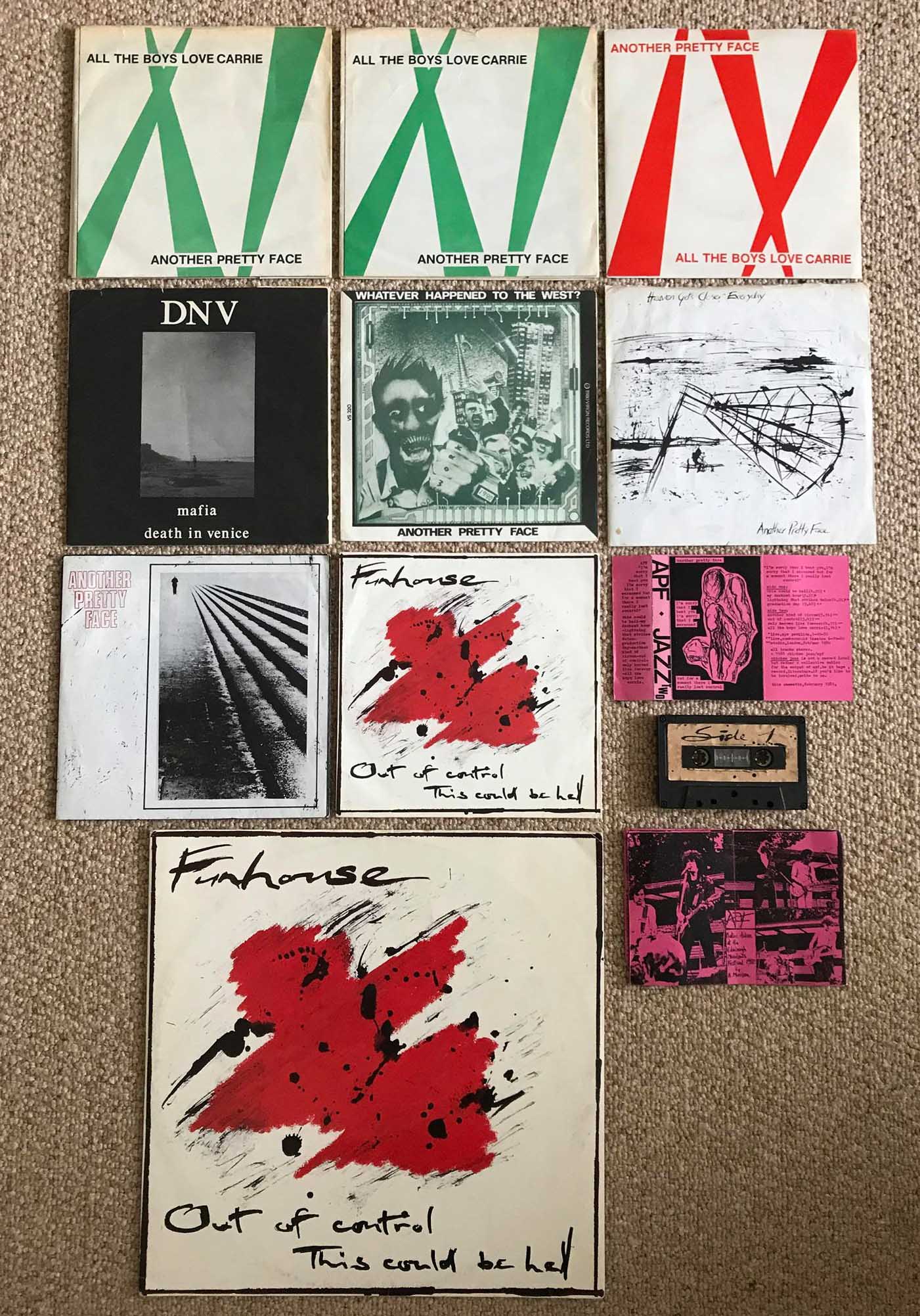 ☄ Another Pretty Face Tape and booklet ☄
A very scarce APF cassette and booklet of 'I'm Sorry That I Beat You' which is housed in a pink sleeve. This is a rare item. Thank you Ali.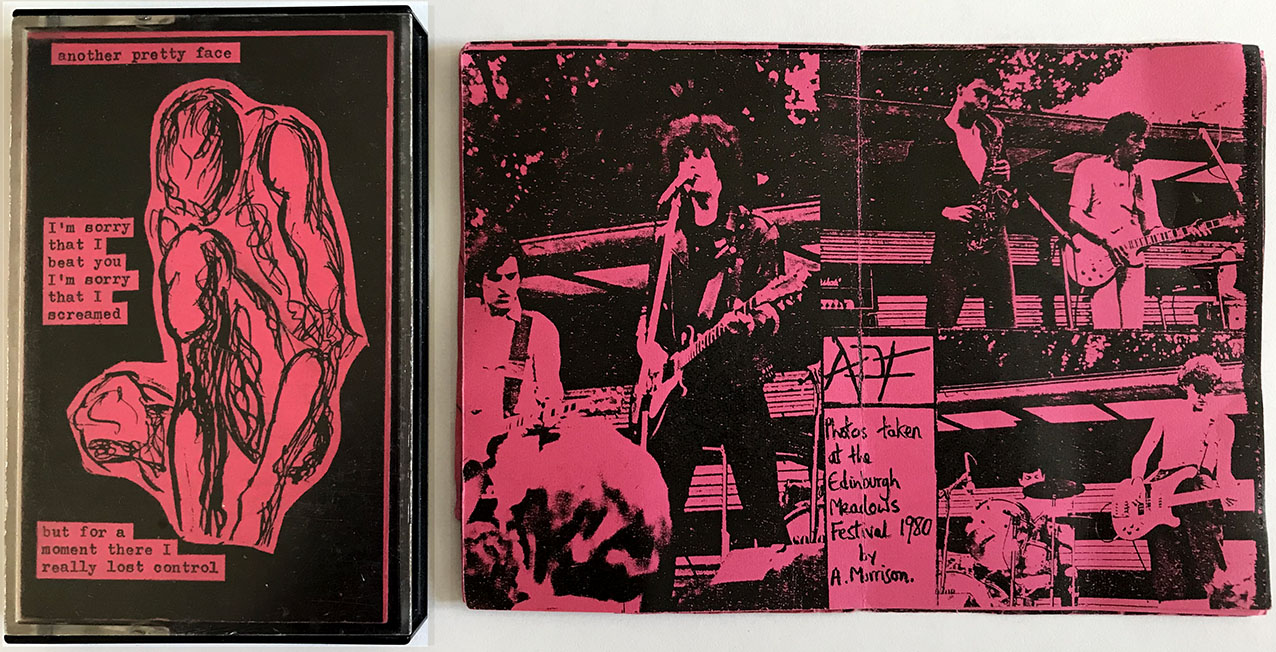 ☄ Another Pretty Face Badges ☄
A pair of very scarce Another Pretty Face badges. Thank you Simon Clegg.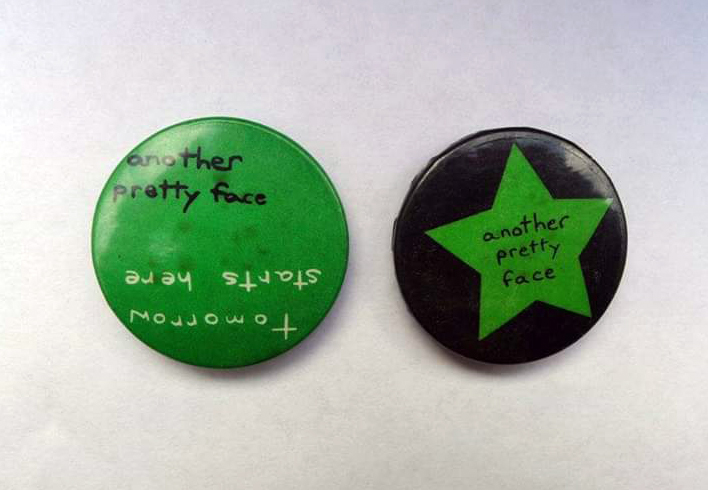 ☄ Collection of Jungleland Magazines ☄
A rare collection of Jungleland Magazines created by Mike. Thank you Allan McConnell. Allan was a member of Mike's early band The Bootlegs.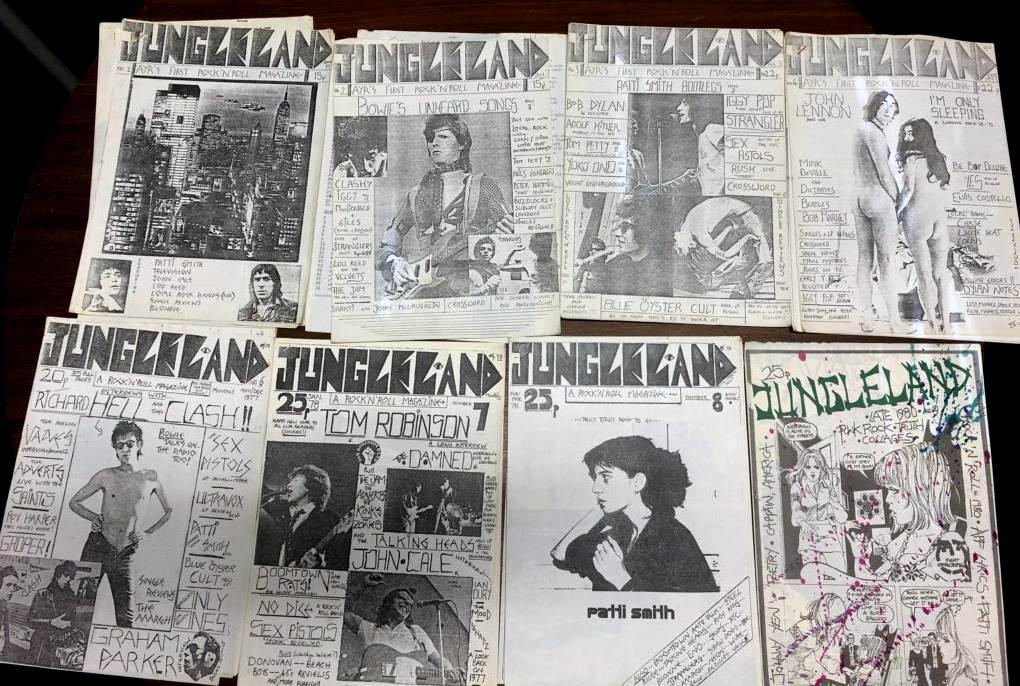 ☄ Hot Press Covers 1986 - 2017☄
Mike has graced the cover and given some wonderful interviews to Irish music magazine Hot Press over the years.
From left: 1986, 1989, 1990, 2000, 2007 and 2017.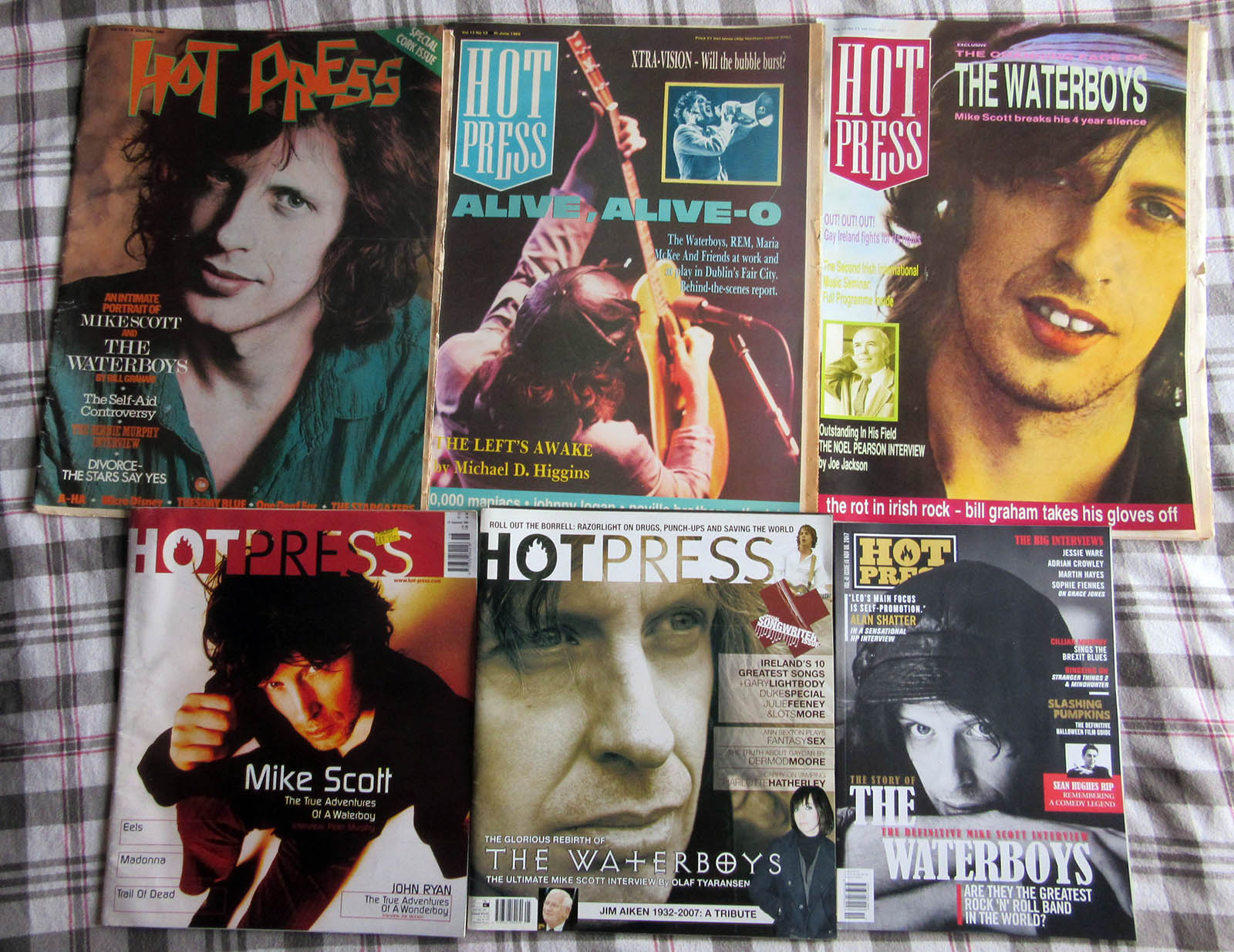 ☄ Dream Harder 25th Anniversary ☄
The Dream Harder album turned twenty five on May 25th 2018.
This is a Promo only window sticker with an album bio on reverse.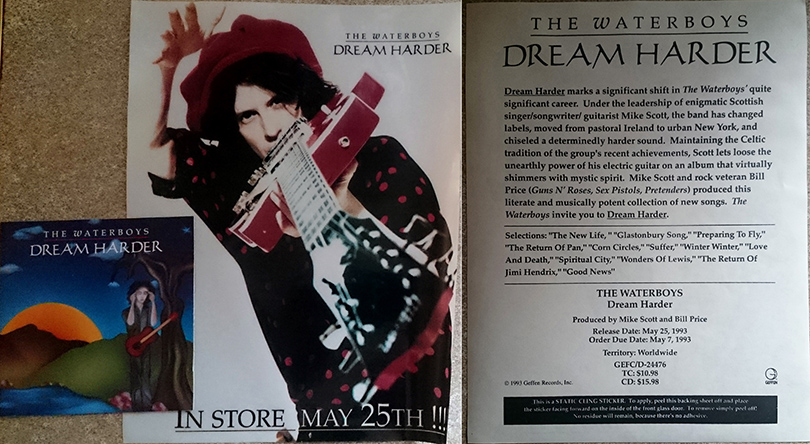 ☄ Big Music Seven-inch Proof Sleeve ☄
An extremely rare proof sleeve for the planned cover art for the Big Music seven-inch single.
There are about five fully assembled Big Music sleeves known to be in some hardcore fans' collections but this unique sleeve was never actually issued and it is highly sought after.
This sleeve was very kindly signed by Anthony and Mike and up until recently, neither had ever seen one before.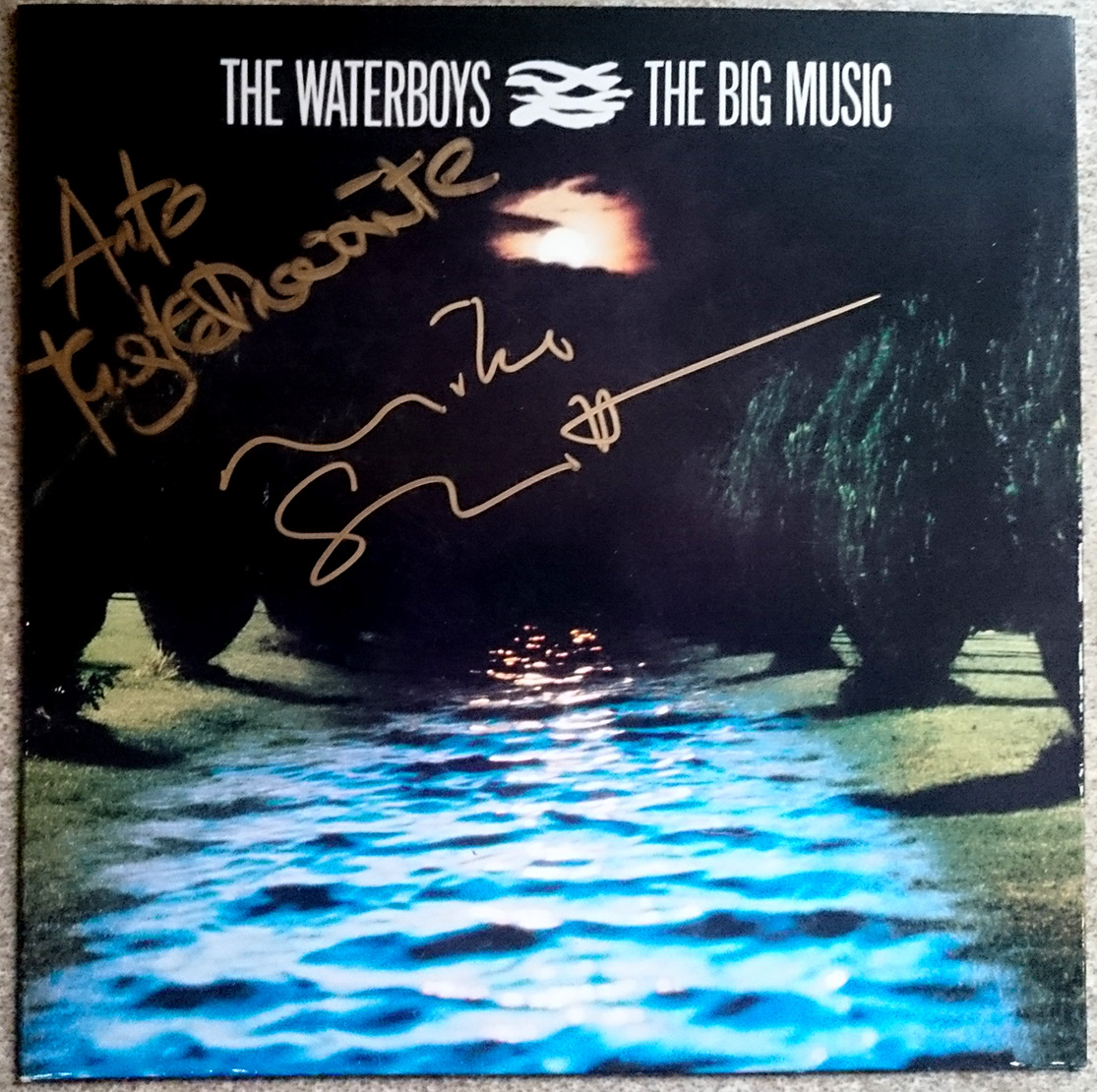 ☄ Waterboys Tour Jacket 1988-'89 ☄
A beautiful and very rare authentic leather tour jacket from the 1988 - 89 Tours.
This jacket is more than likely one of a kind now.
The jacket is embroidered with 'The Waterboys Ireland 88 - 89' and it has 'MCD' embroidered on the lapel.
And Sharon Shannon wore this very jacket on the cover of her 'Out the Gap' album.
This is a genuine piece of Waterboys history and a very unique artifact.
Thank you Sharon Shannon.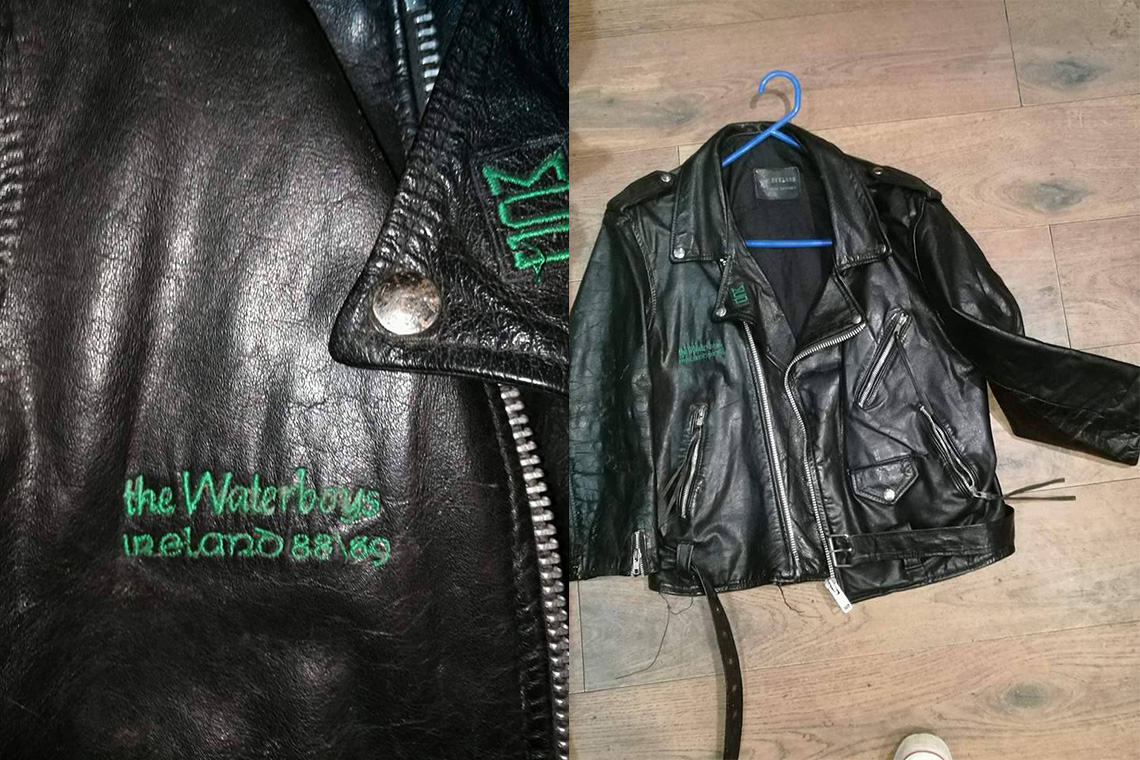 ☄ Bookermarker and Promo Card 2001 ☄
A Bookmarker with tour dates on reverse and a promo postcard sized card from the 'Too Close To Heaven' Tour in 2001.
Thank you Joanna Donoghue.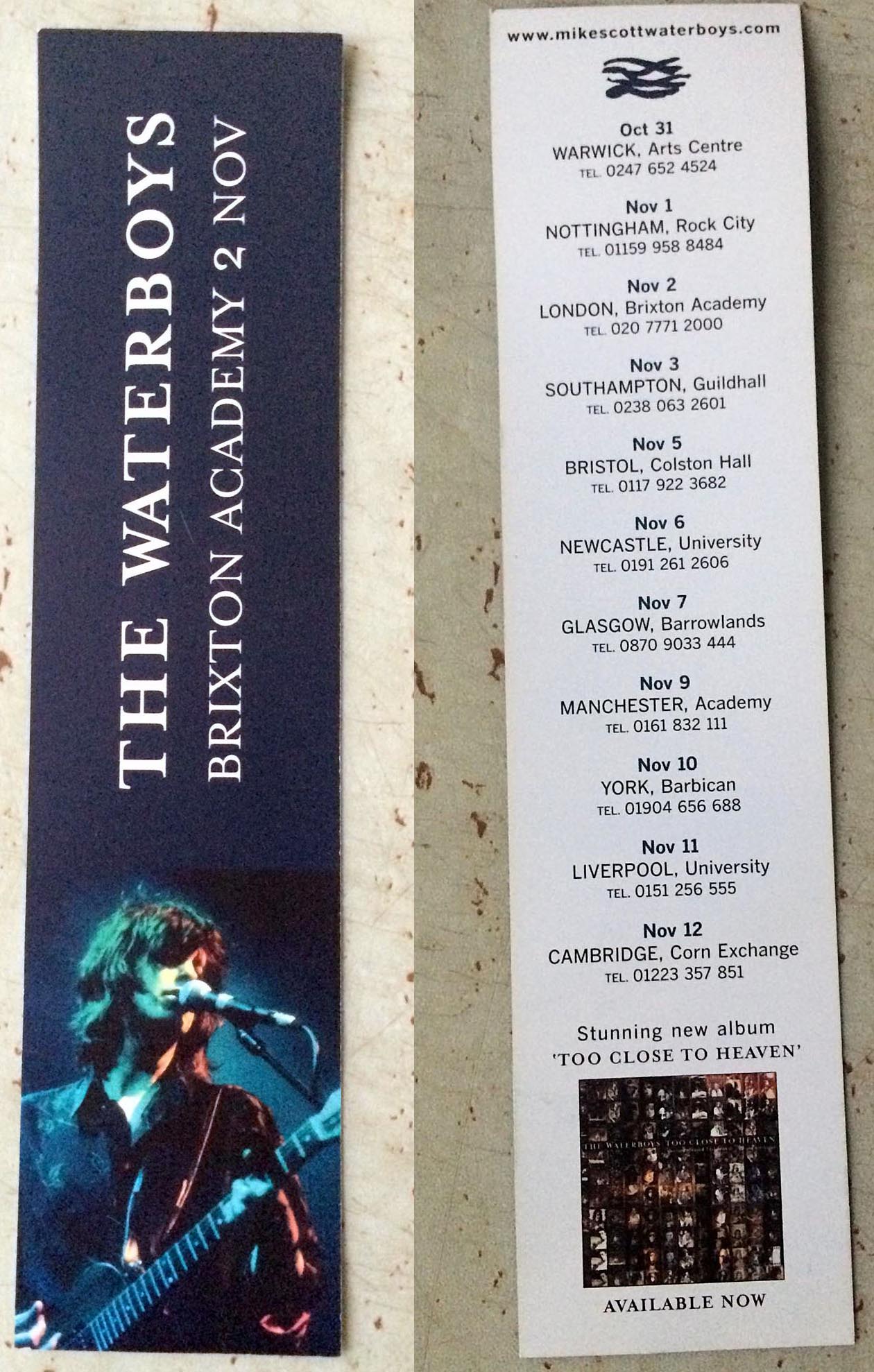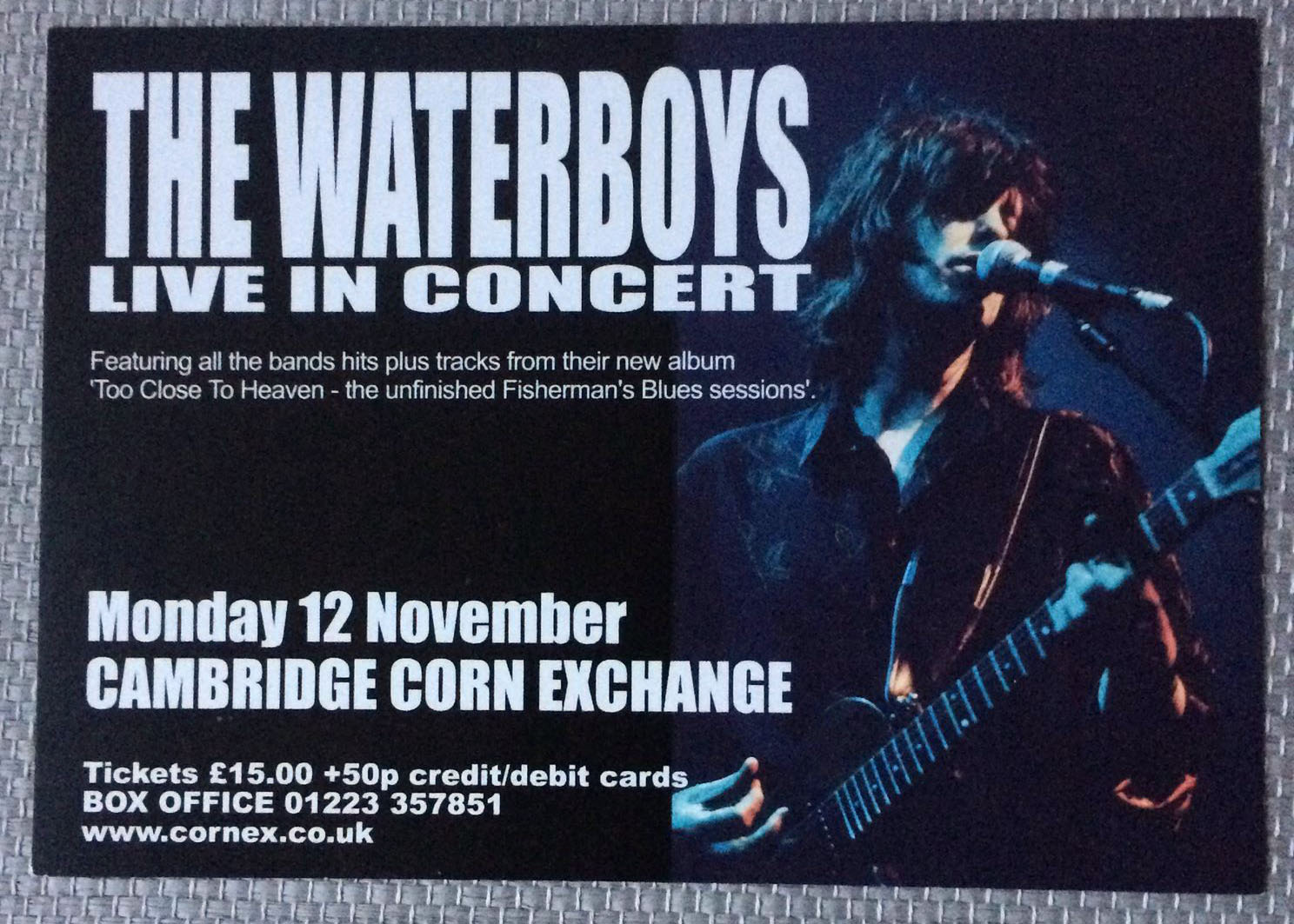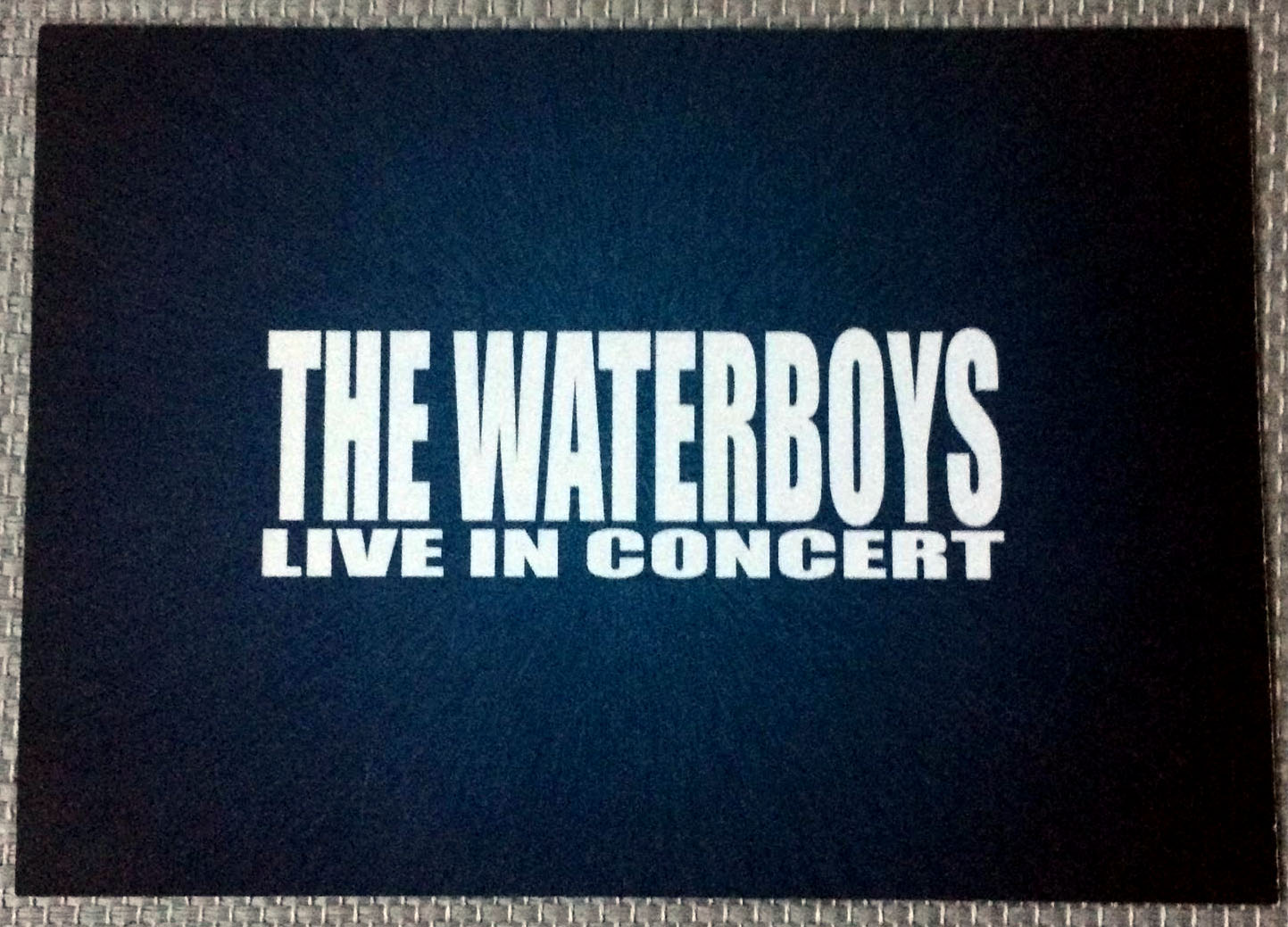 ☄ 12-Inch Acetate of Fisherman's Blues ☄
Two very rare Acetates. A twelve-inch of Fisherman's Blues signed by the dynamic duo, and a twelve-inch of Medicine Bow. Thank you Johnny Robinson.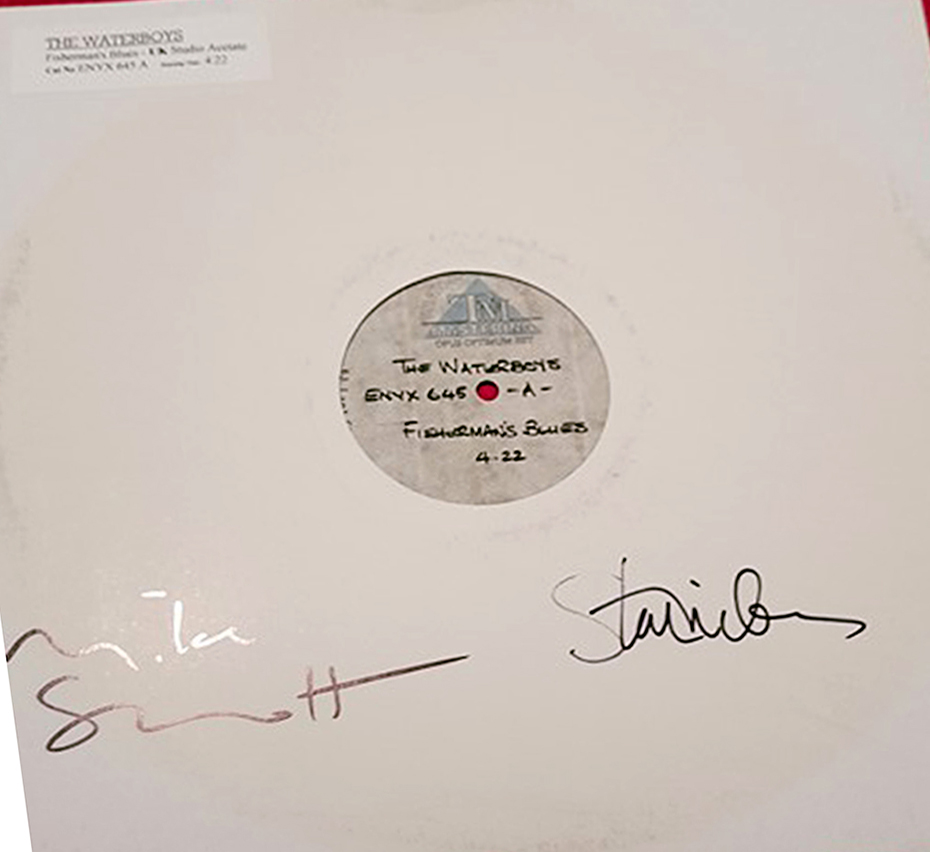 ☄ 12-Inch Acetate of Medicine Bow ☄
Thank you Johnny Robinson.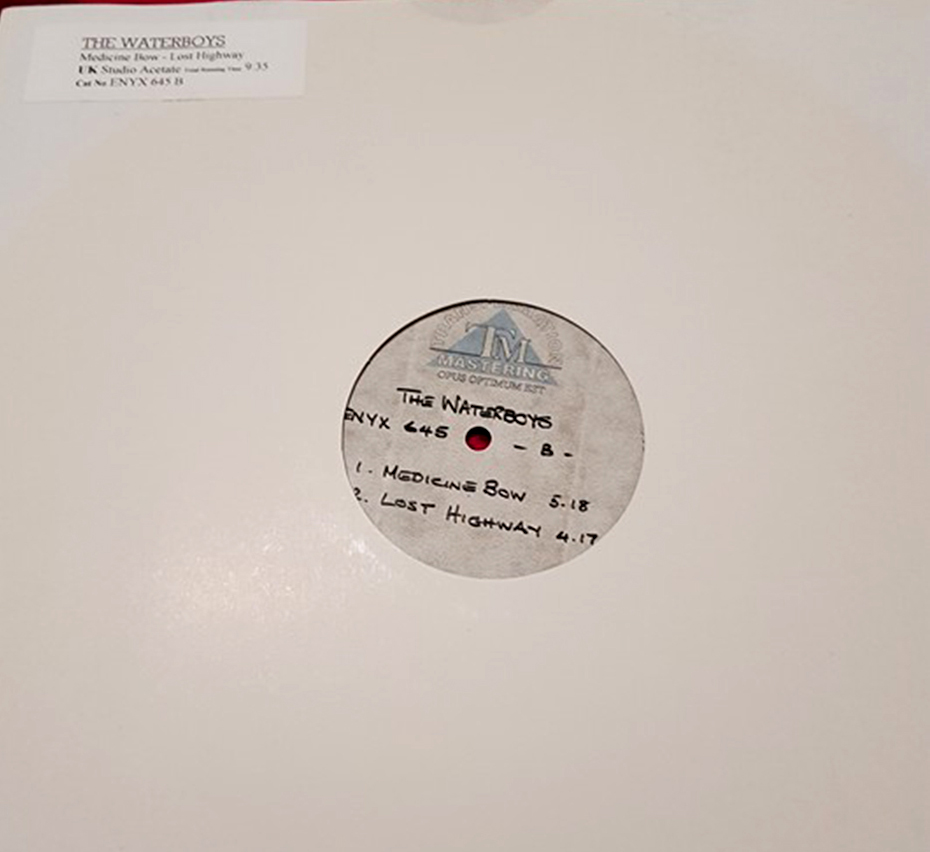 ☄ First ever Australian Tour - Flyer ☄
A Tour Flyer from the first ever Australian tour listing all of the tour dates.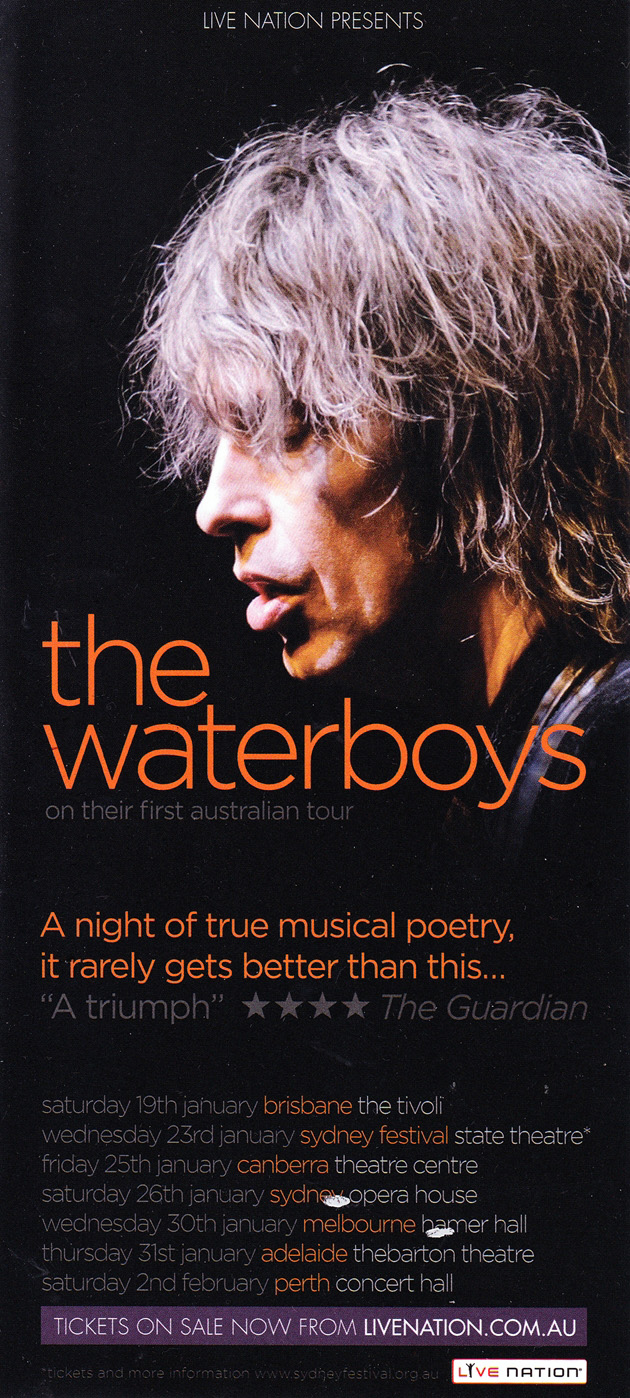 ☄ 'And A Bang..' Sheet Music ☄
Rare Sheet Music for 'And A Bang On The Ear', housed in a triple gatefold printed wallet, and Quarto (slightly larger than A4) sized.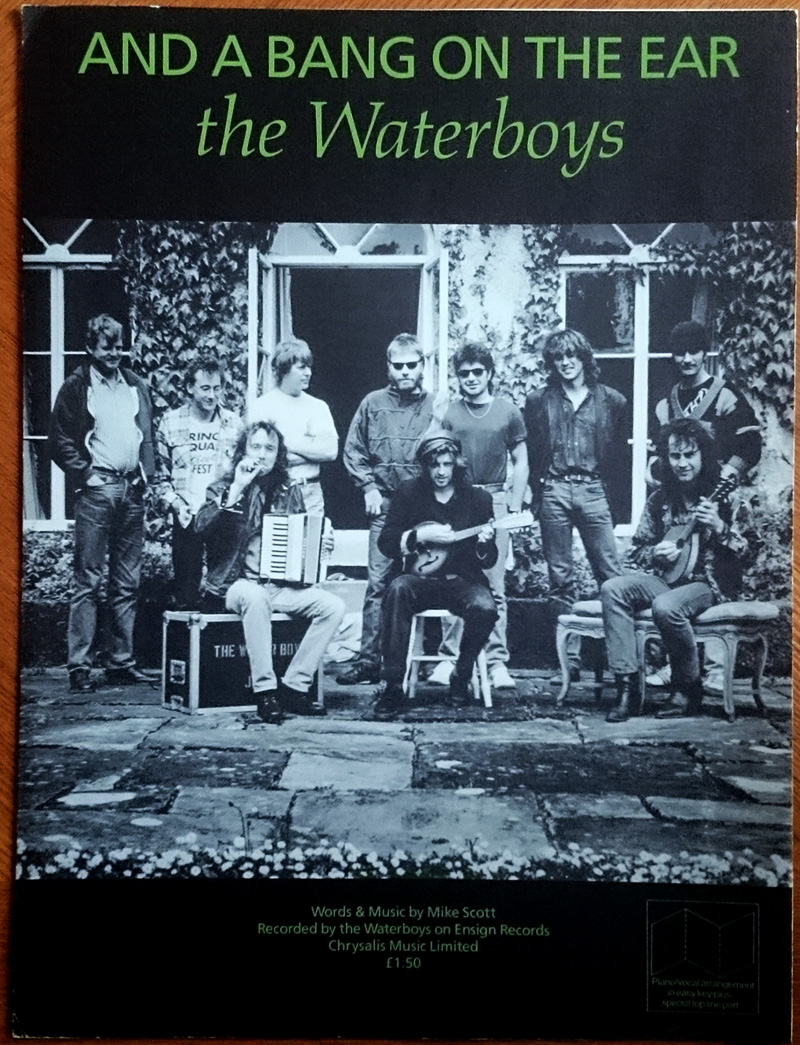 ☄ Promo 'Church' 12 inch single 1984 ☄
A promo only release of 'Church Not Made With Hands', with same song on both sides.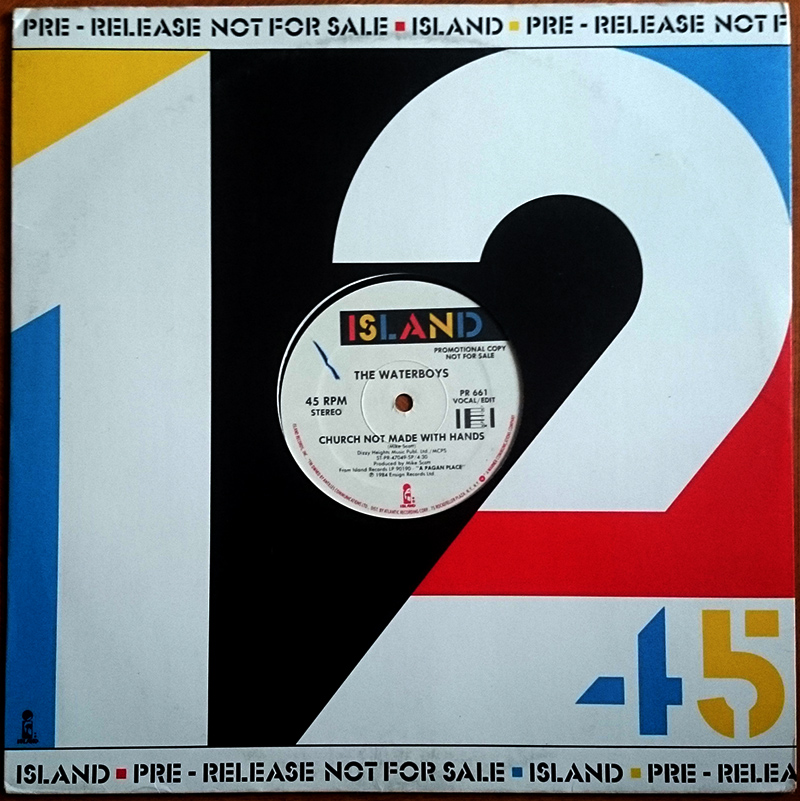 ☄ Promo Only Card ☄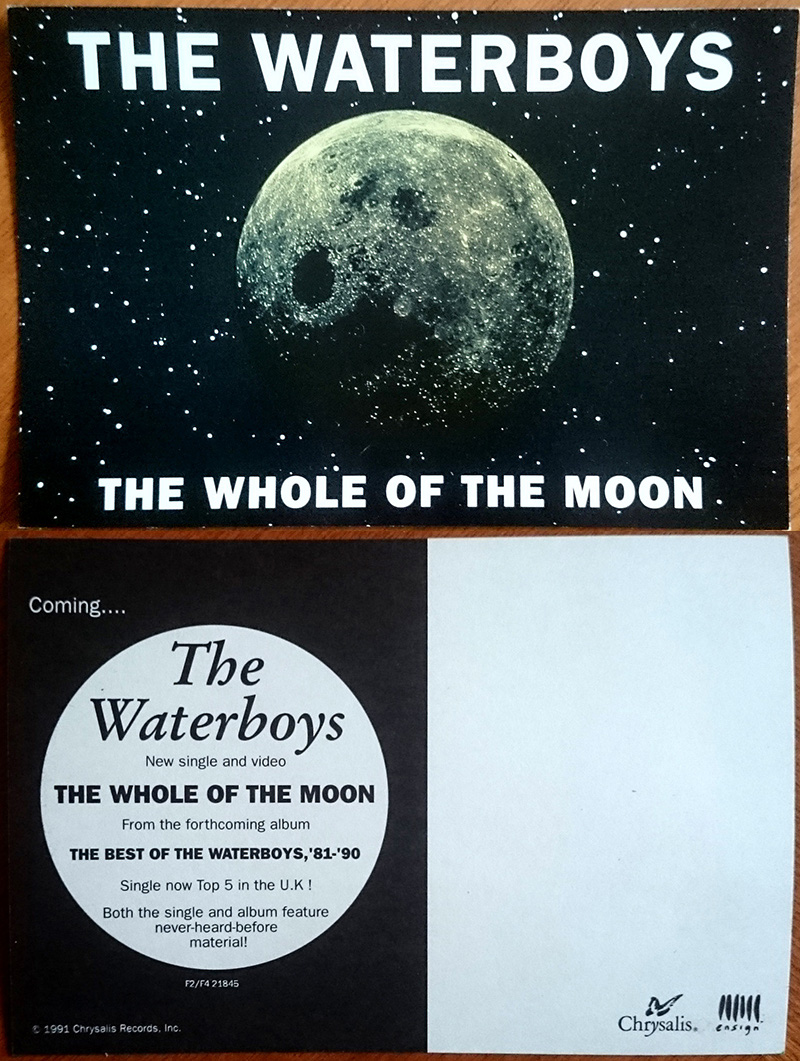 ☄ Olympic Ballroom, Dublin Poster 1987 ☄
Thank you Pauline Bewick. A very rare and hard to find Olympic Ballroom poster for the Green Alliance shows on October 6th and 7th 1987 by the renowned Artist Pauline Bewick.
The poster is signed by Mike to Pauline's daughter Poppy.
You can view more of Pauline's excellent artworks Here.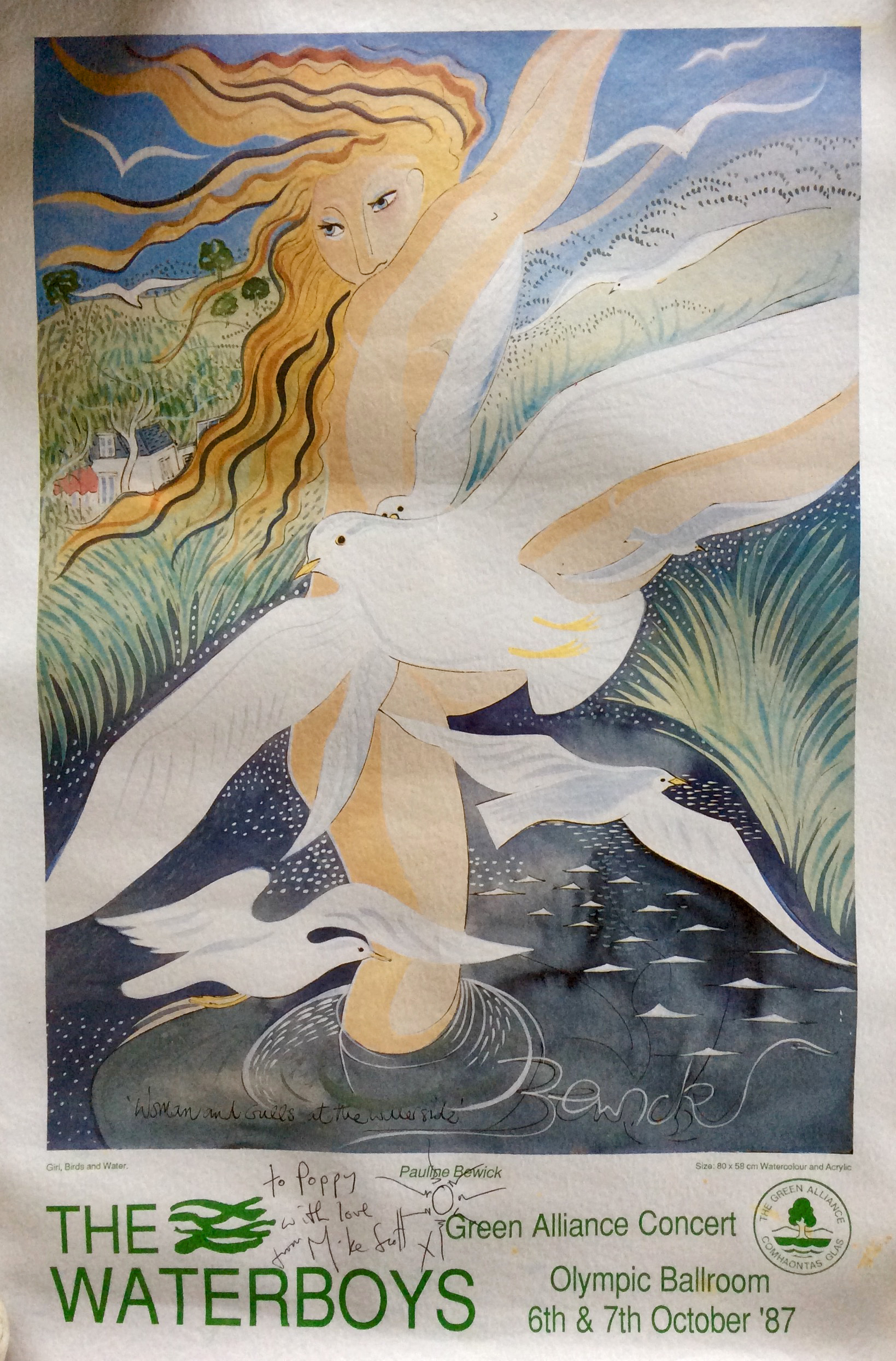 ☄ Green Alliance Booklet, October 1987 ☄
A rare and hard to find booklet that was only available at the Olympic ballroom shows on the 6th and 7th of October 1987.
Thank you John Trautt.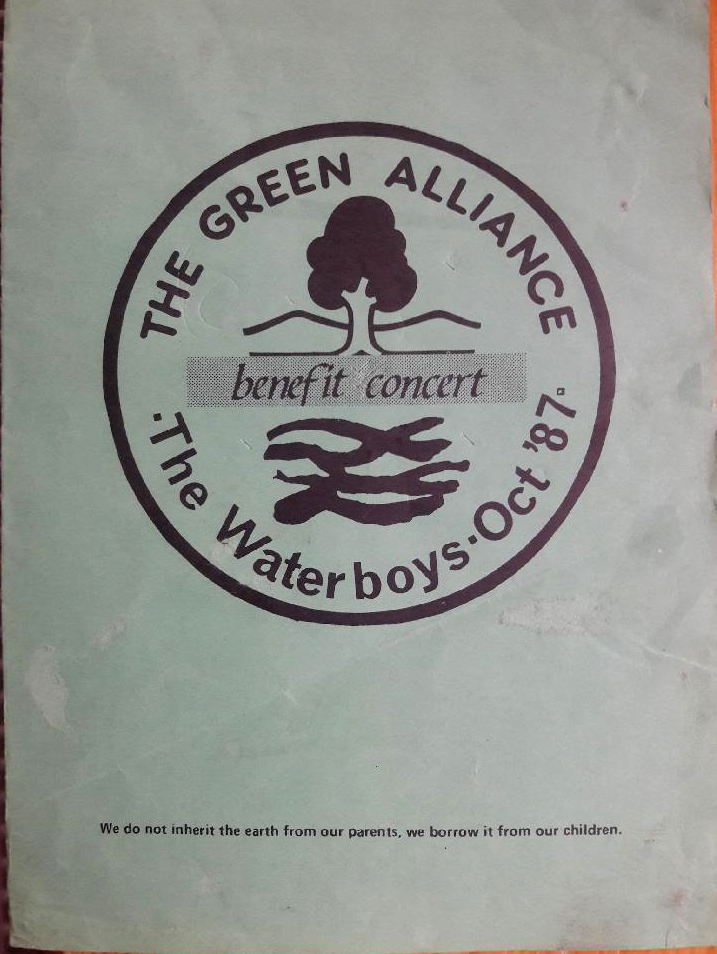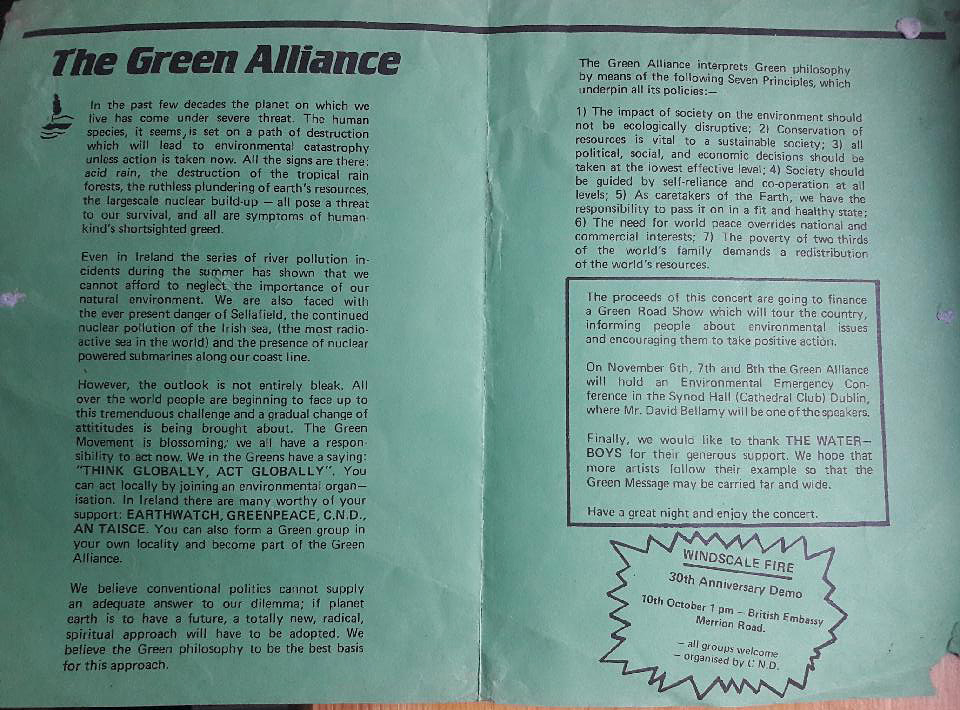 ☄ A Selection of 1980's Fan Magazines ☄
Here are a selection of just some of the quarterly issues of the various Fan Magazines that were in circulation in the 1980's. These Fan Mags are now extremely difficult to find.
Thank you John Trautt.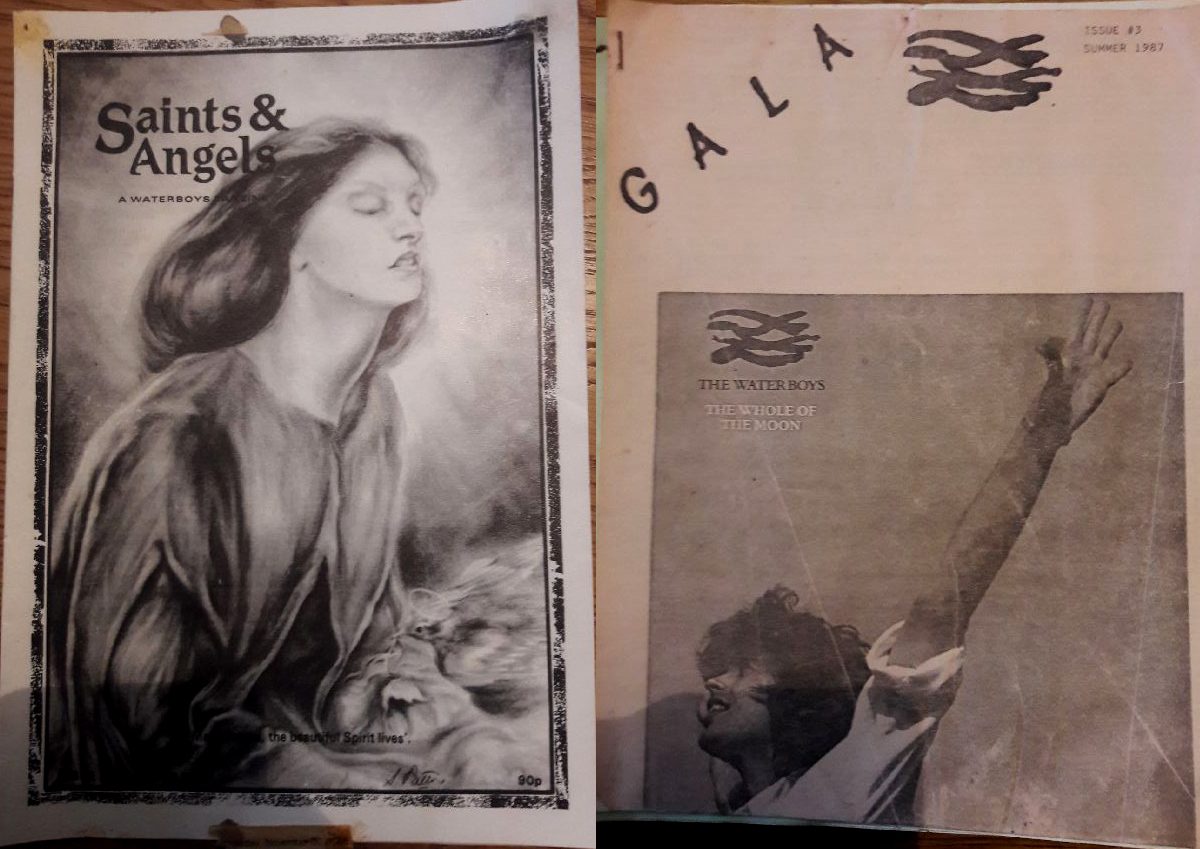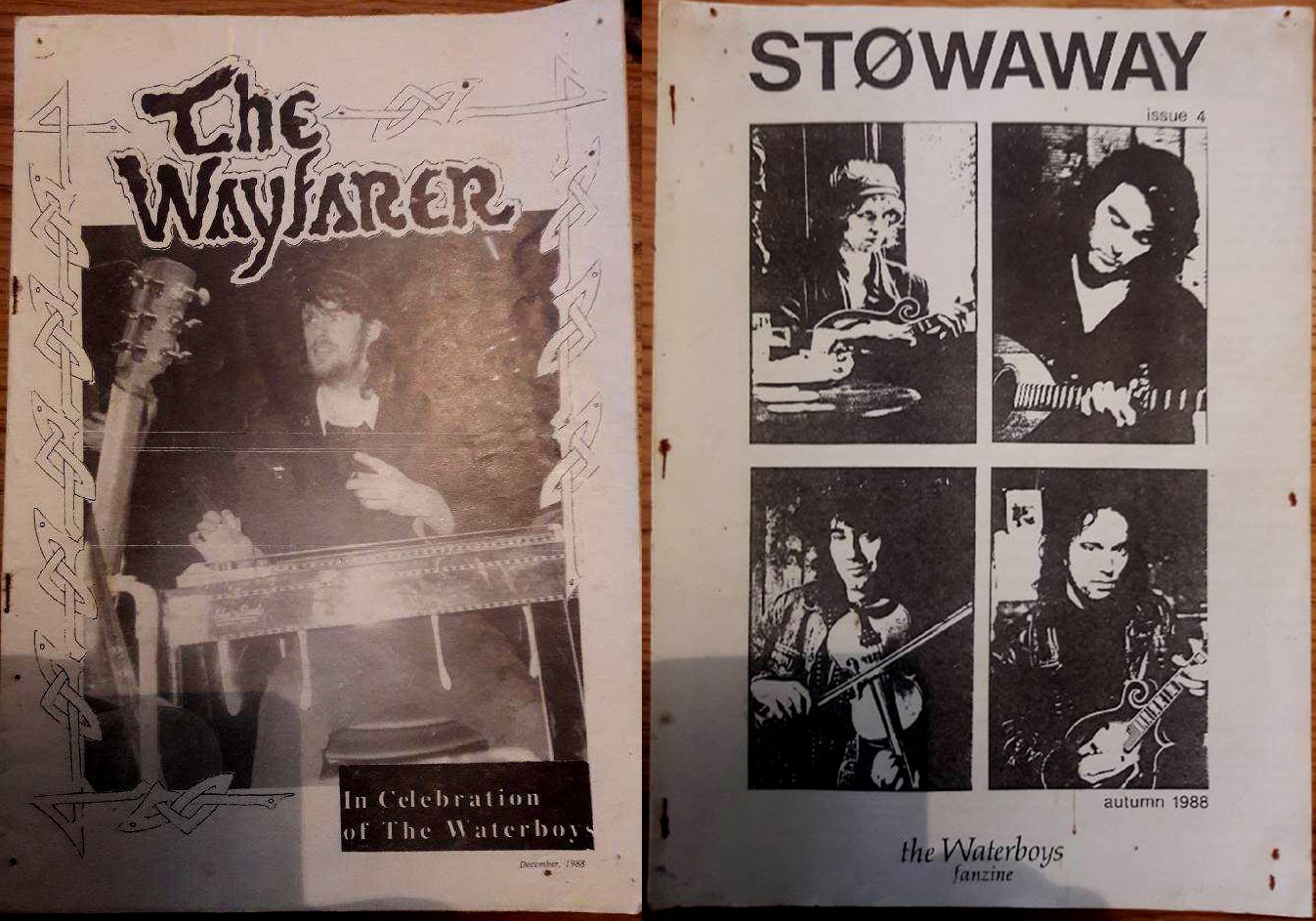 ☄ Waterboys Interview Pic Disc circa '86 ☄
This Picture Disc Interview was released on the Baktobak UK label around about 1986 (possibly 1987) and it is about 20 minutes in duration.
The sound quality is 'of it's time' but Mike chats about the 'This Is The Sea' LP, Van, Religion, Politics and more.
There is no information about where the actual interview took place or the actual date (possibly the summer of 1985).
Thank you Karen Devine Farrell.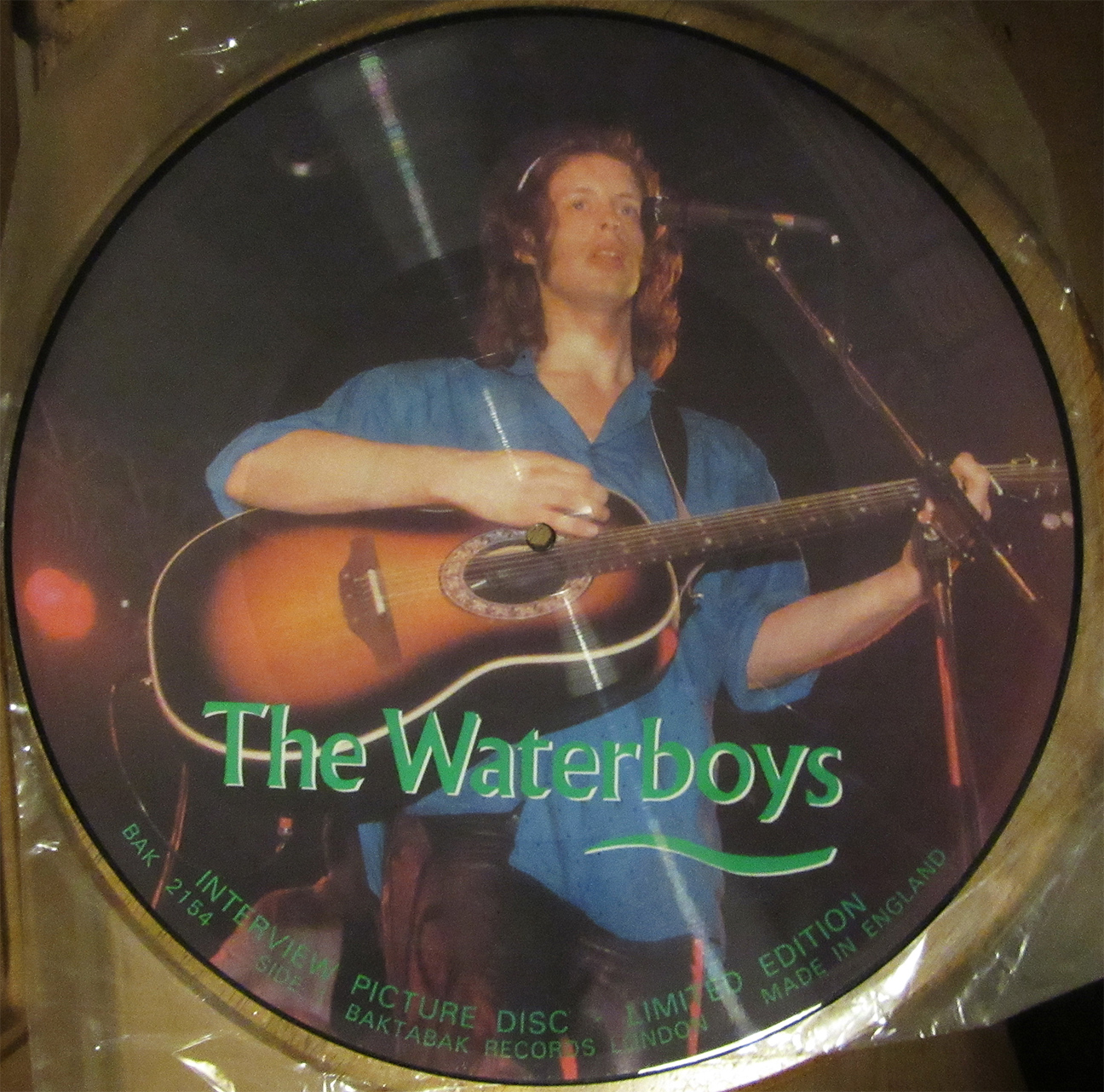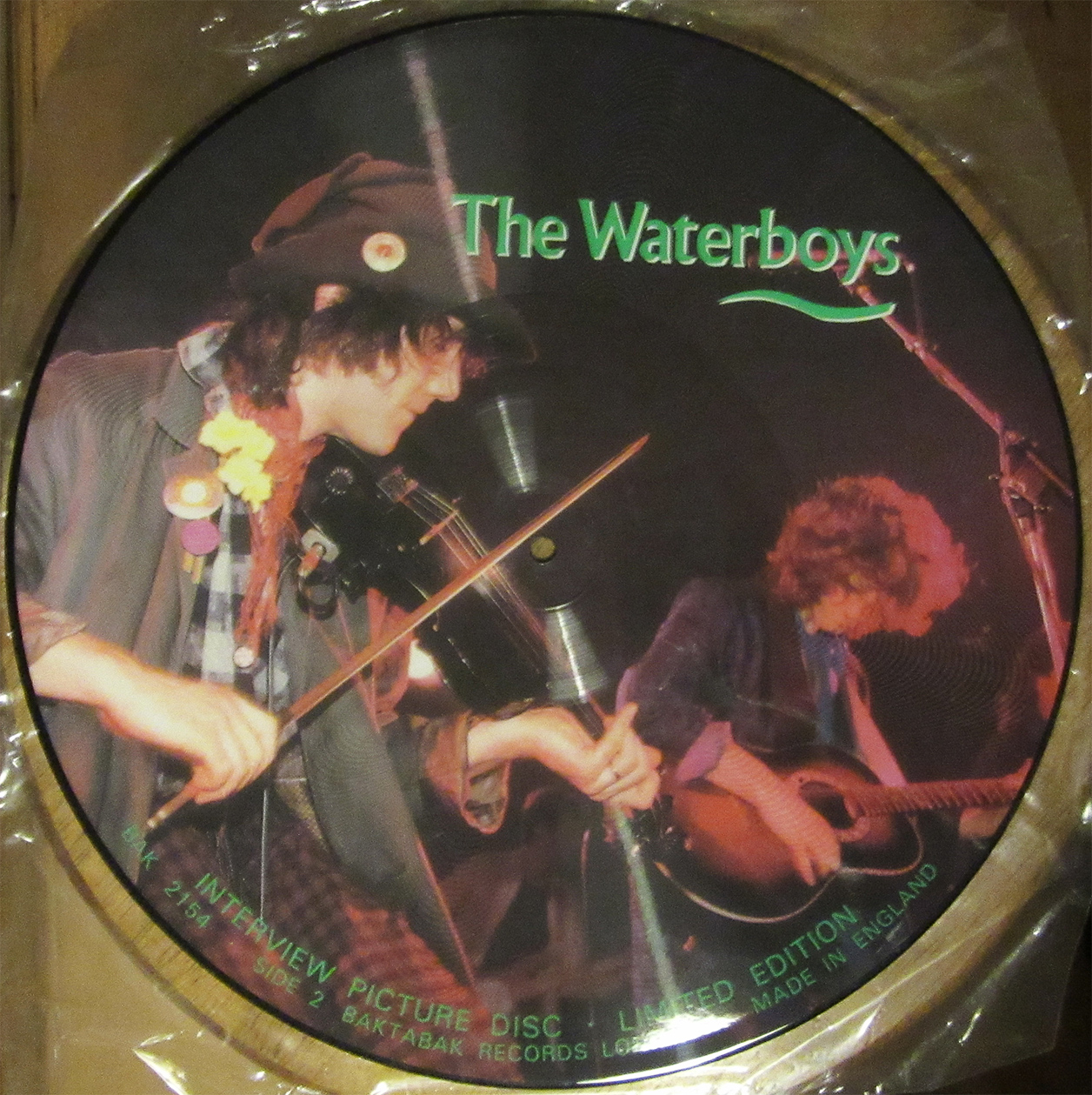 ☄ 'Out Of All This Blue' Collection ☄
A selection of most of the various formats, singles and paraphernalia from the Out Of All This Blue Album.
This selection contains the following: a 2 CD Acetate with release sheets, a promo 5 Track E.P., 2 X promo singles, Triple CD, signed Double CD, Triple Vinyl, signed Photo, Song Folio's in signed folder and the Japanese 2 CD with exclusive extra song 'Cuddle Up' and a Song Lyrics Booklet.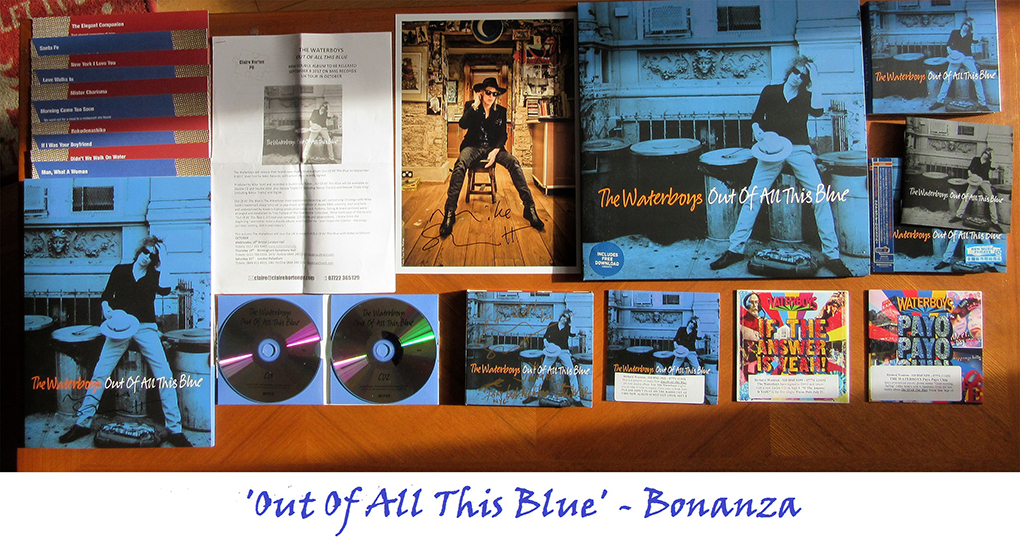 ☄ 'Out Of All This Blue' 2 CD Acetate ☄
A 2 CD Acetate of Out Of All This Blue Album which is housed in a gatefold card sleeve with cover image and song titles on reverse but with a plain blue inner.
It also includes two release sheets with a short piece on the album and lists some autumn 2017 tour dates.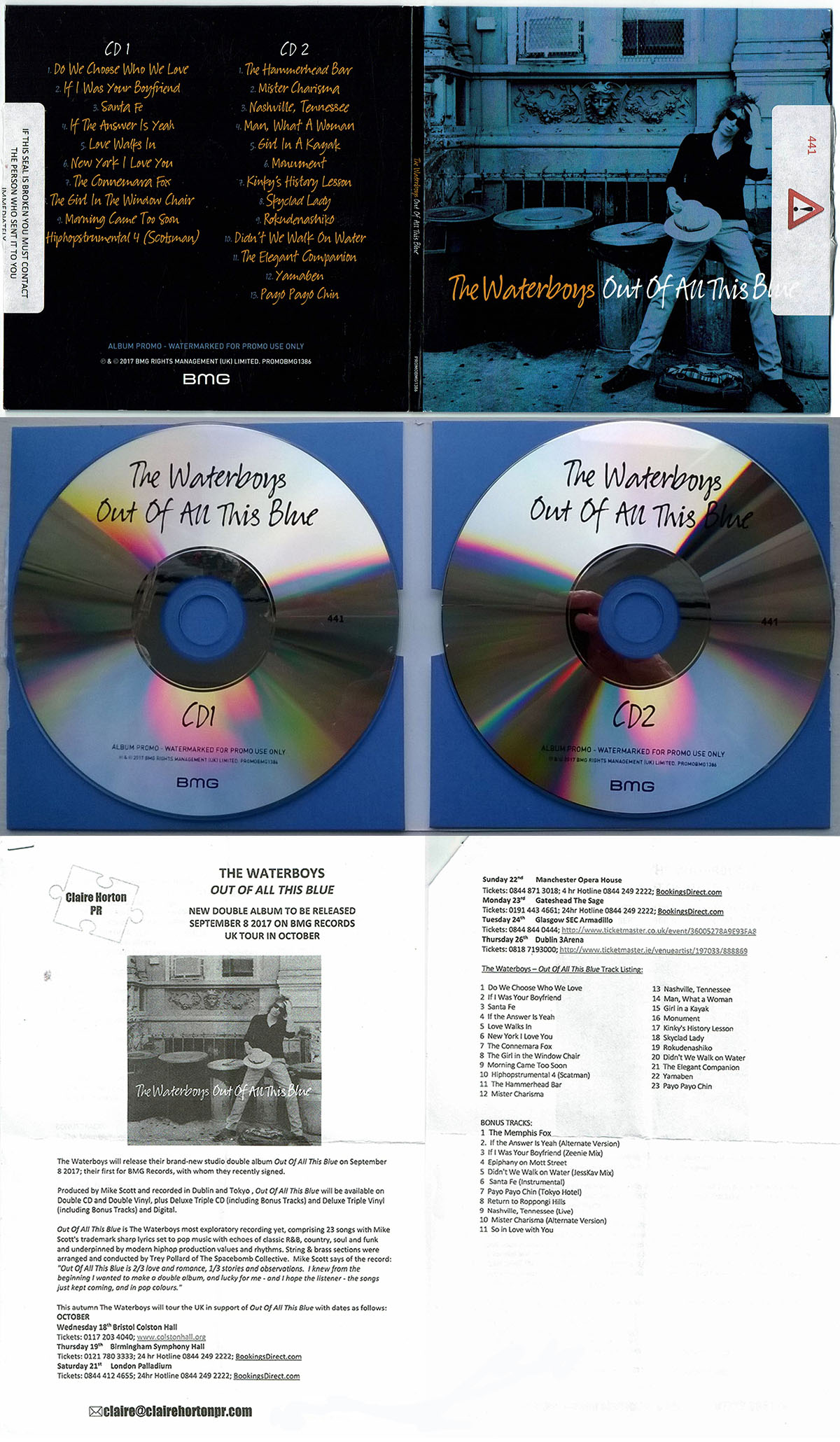 ☄ Rare Italian/English Lyrics Book (1991) ☄
A hard to find (and longsince out of print) Italian/English Lyric book. This book contains all of the song lyrics in Italian and English from the Debut 'The Waterboys' LP to the 'Room To Roam' LP. And it also contains all of the lyrics to the B-Sides!
Thank you Dag Reinert Johansen.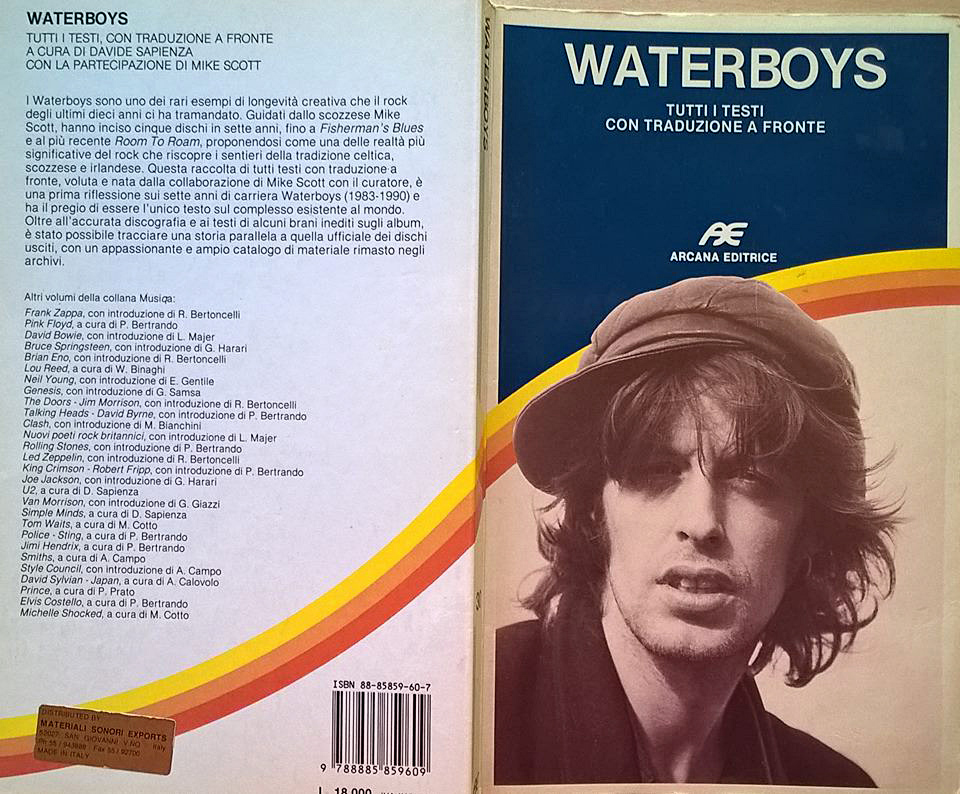 ☄ Pencil Drawings - Karen Devine Farrell ☄
Some pencil drawings of Mike and Steve by Karen Devine Farrell that she drew 'many many years ago'.
Thank you Karen.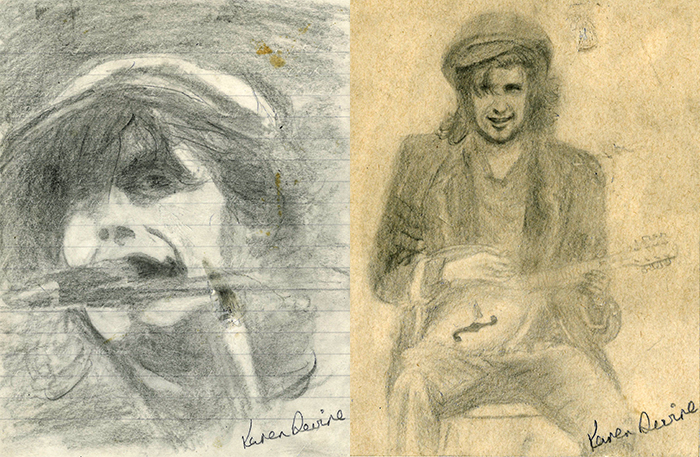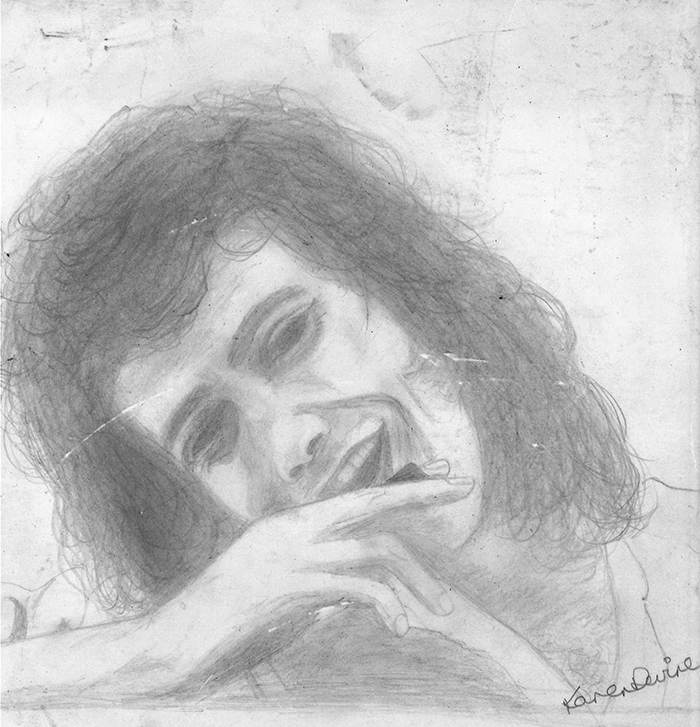 ☄ 'Hosting Of The Shee' Signed Manuscript ☄
This Limited Edition Manuscript, with each copy individually signed by Mike and Steve, was only available for a very short time with advance orders of the excellent 'An Appointment With Mr Yeats' album from Townsend Records. Initially, it sold out in about an hour and the Dynamic Duo kindly hand signed more copies which also completely sold out within a couple of hours. The manuscript which shows the violin part from the album's opening track The Hosting Of The Shee, and rendered in the Wickham hand, is printed on 135 gram Matt Art Paper. It is a lovely addition to the album.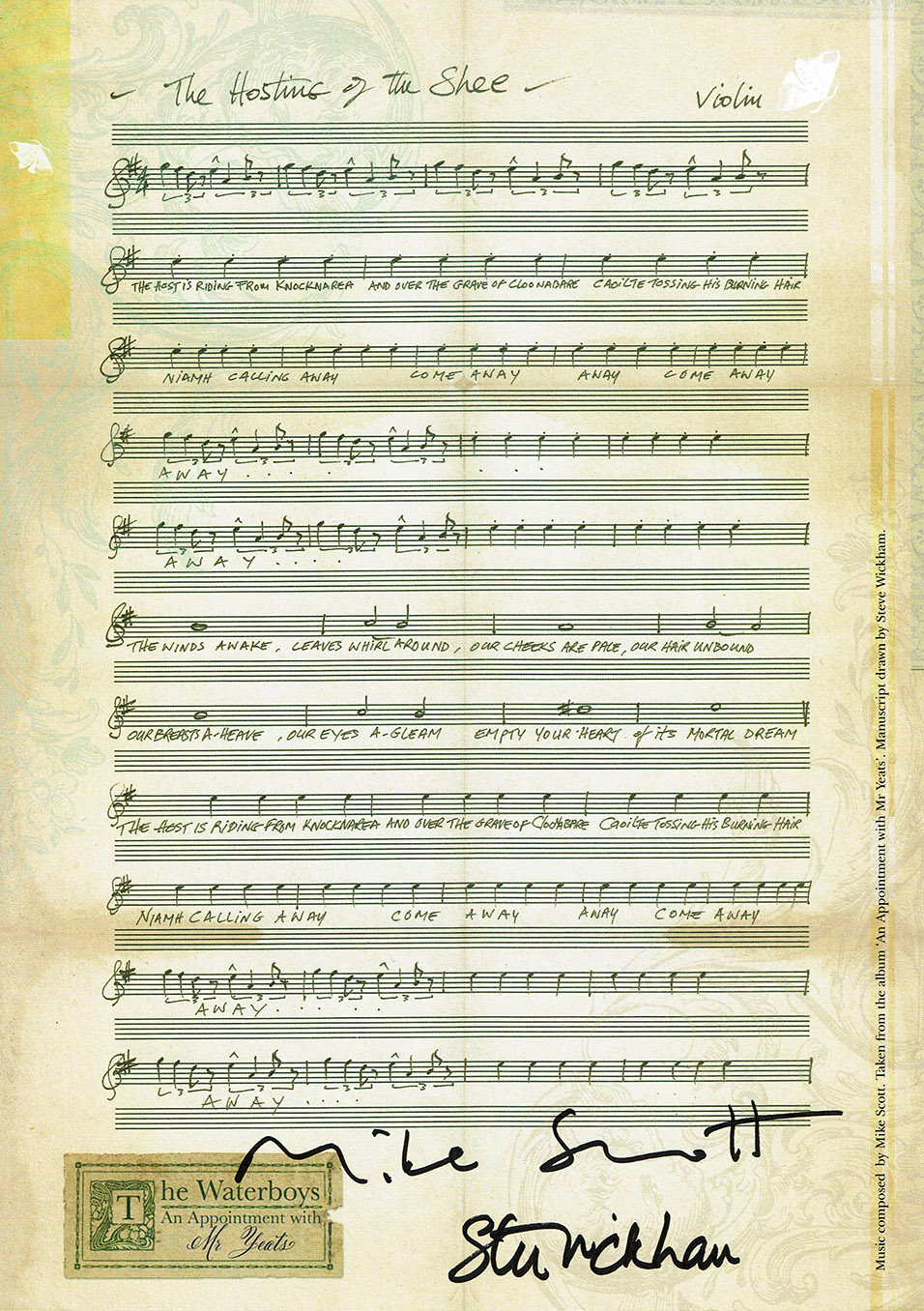 ☄ Queen Elizabeth Hall 2002 Press Advert ☄
A Press Advert for an Acoustic show in the Queen Elizabeth Hall , London on June 16th 2002. Thank You Dag Reinert Johansen.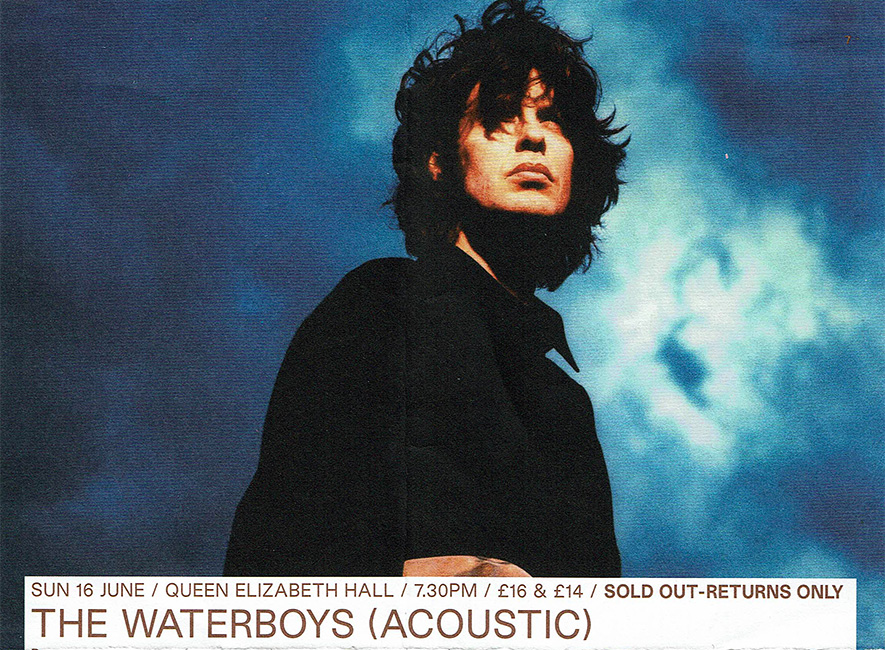 ☄ Alcheringa in Blues ☄
A phantasmagorical portrait in oils of Mike in full flight by the artist Veronique Castellanos in a painting titled 'Alcheringa in Blues' measuring 50 cm X 76 cm.
Thank you Veronique Castellanos.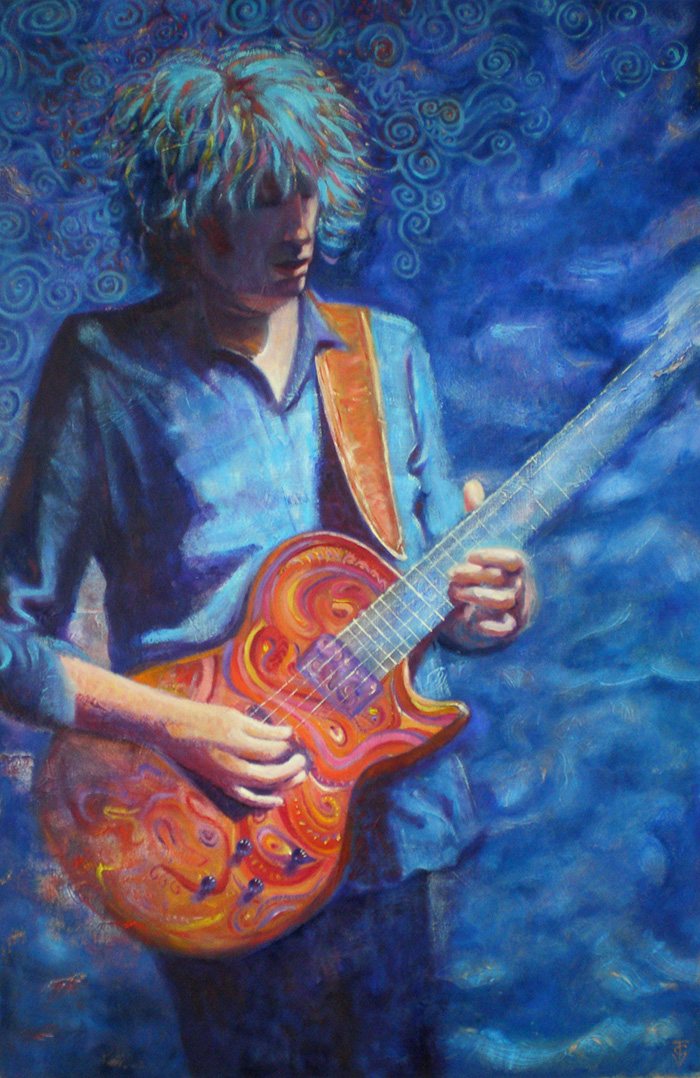 ☄ A Portrait of Mr Wickham ☄
A vibrant capture of Steve in oils by the artist Veronique Castellanos in a painting measuring 45 cm X 60 cm. The 'Dream Coat' was regular stage wear for Mr Wickham for a few years.
Thank you Veronique Castellanos.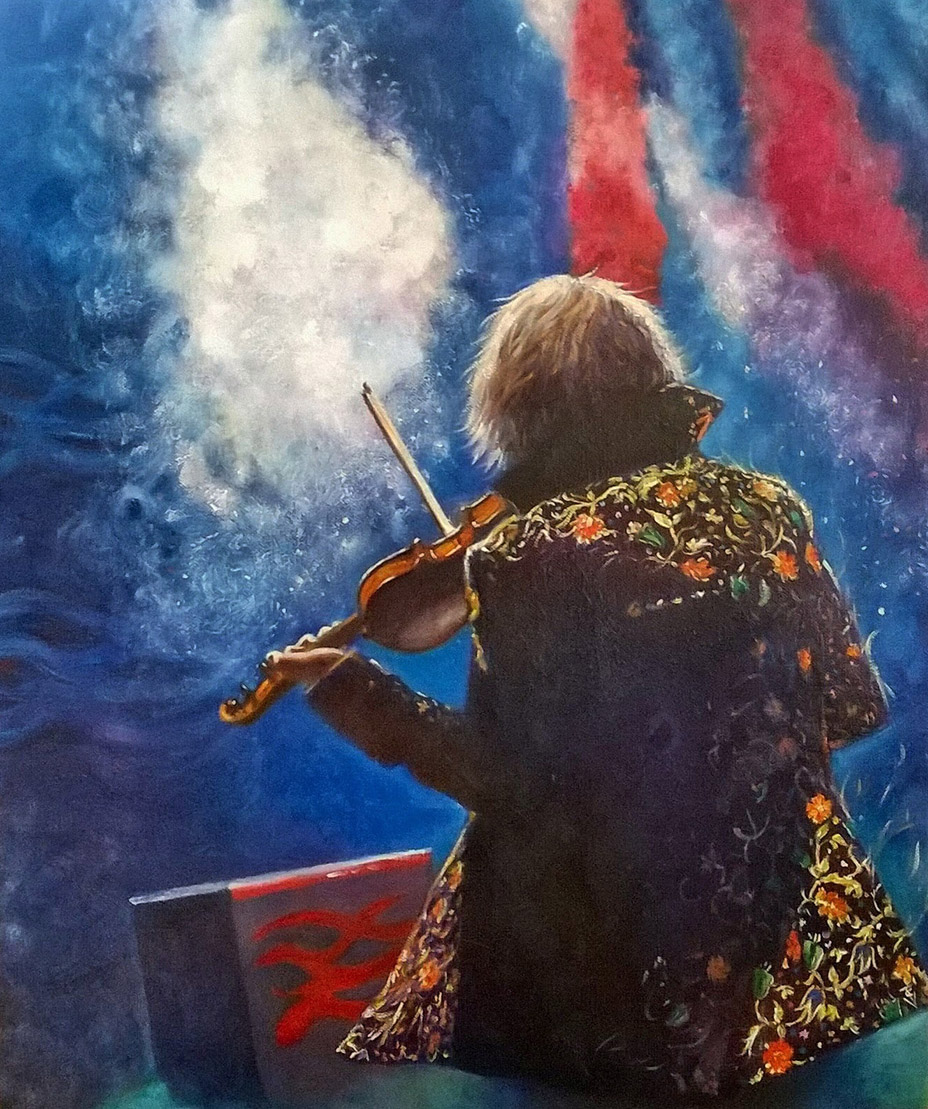 ☄ A Pagan Place - Recycled Album Art ☄
A much loved but worn out and unplayable vinyl album of A Pagan Place. The album sleeve has been turned into a coaster set and the vinyl record has been made into a bowl.This is a one of a kind piece.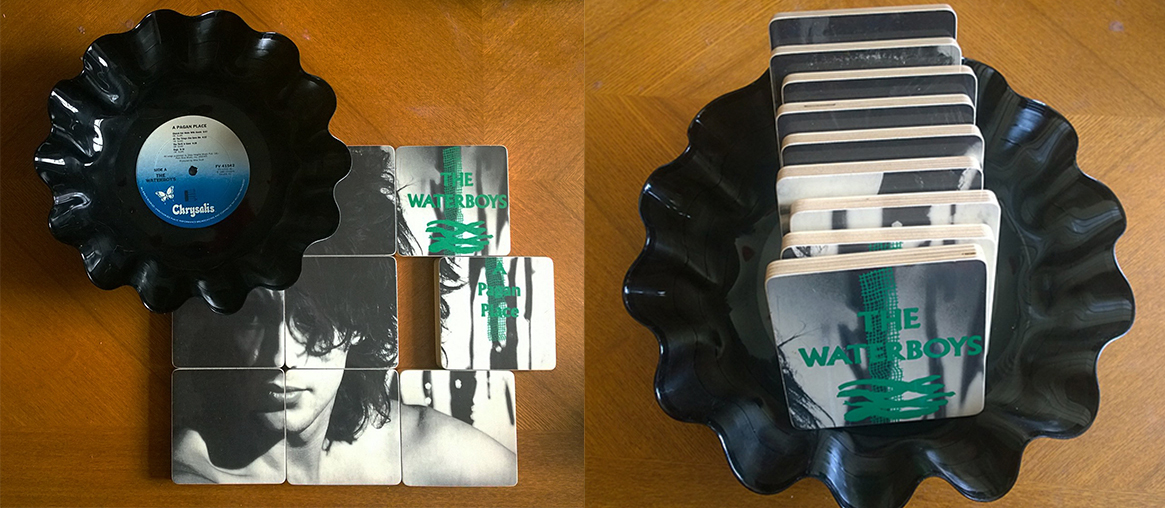 ☄ Fisherman's Blues UK Tour 1989 ☄
A rare poster for the Fisherman's Blues tour with all of the UK dates listed. Thank you Dag Reinert Johansen.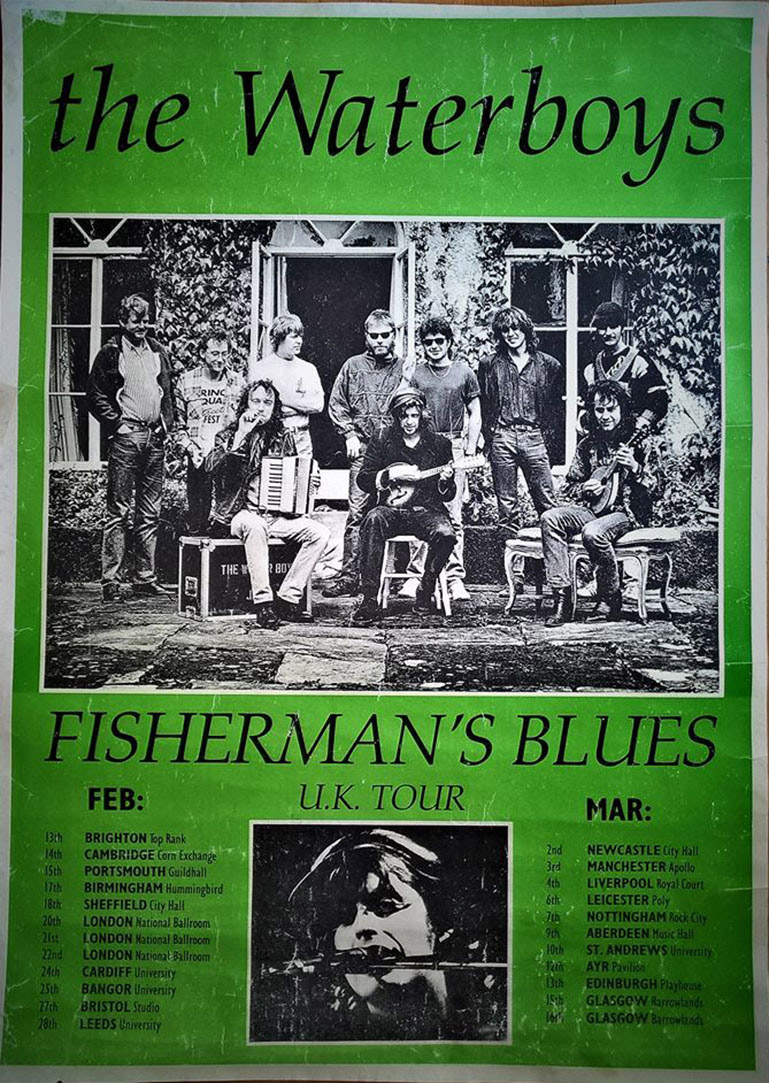 ☄ The Mike Scott Band 1997 Poster ☄
Another unique concert poster from the Stavinger show in Norway on the Still Burning tour. Thank you Dag Reinert Johansen.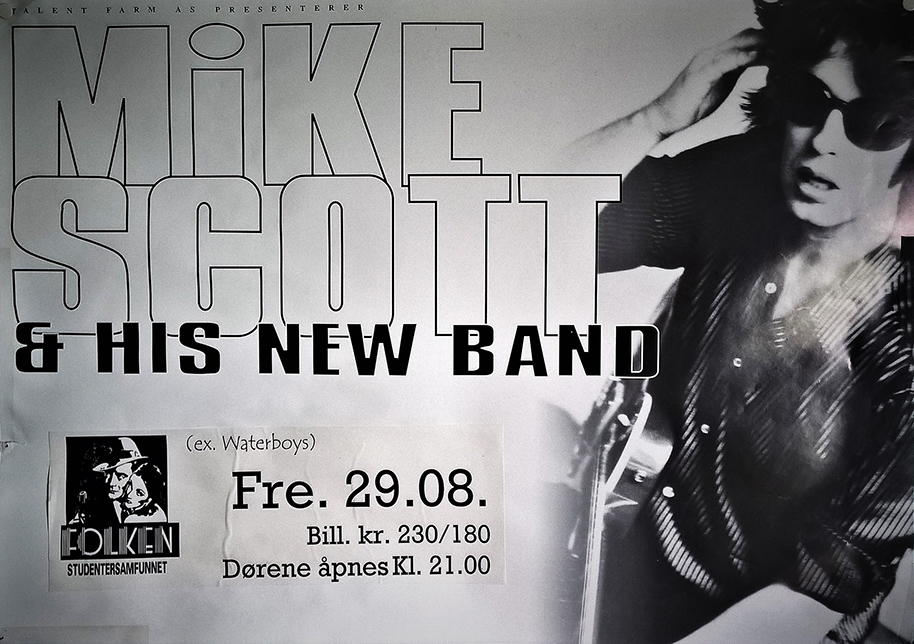 ☄ The Book of Lightning Tour 2008 ☄
An authentic gig poster from the Norwegian BoL tour in Drammen on August 21st 2008. Thank you Dag Reinert Johansen.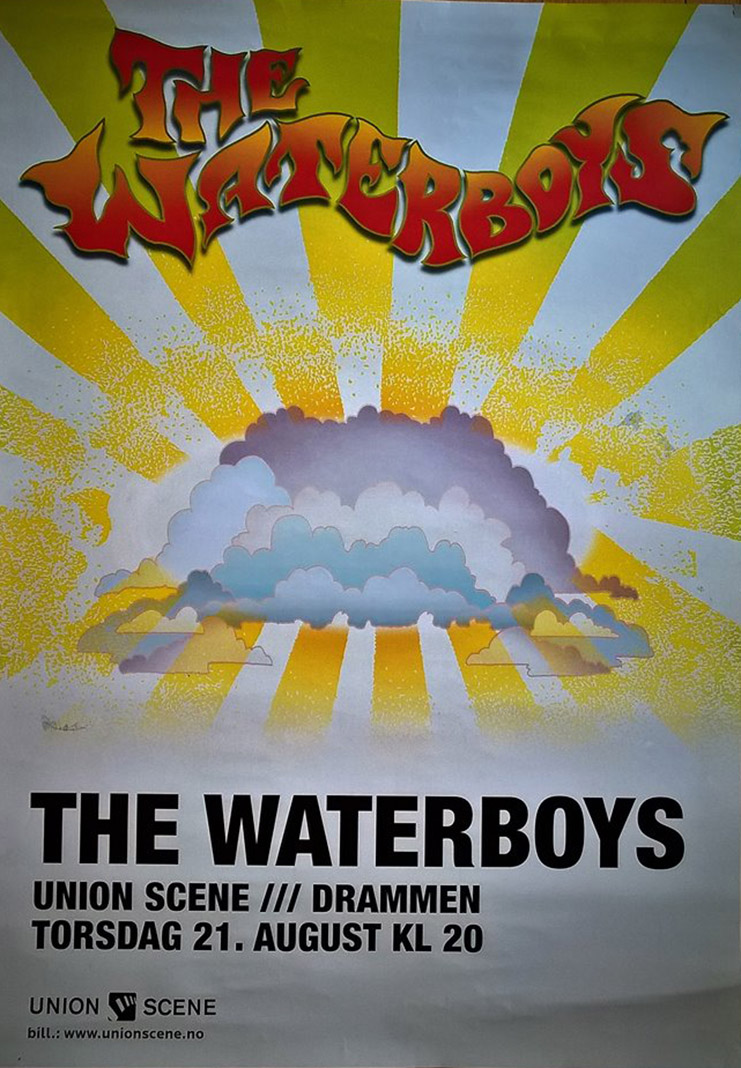 ☄ Waterboys in Fredrikstad 2008 ☄
A completely unique gig poster from the Norwegian tour for August 22nd 2008. Thank you Dag Reinert Johansen.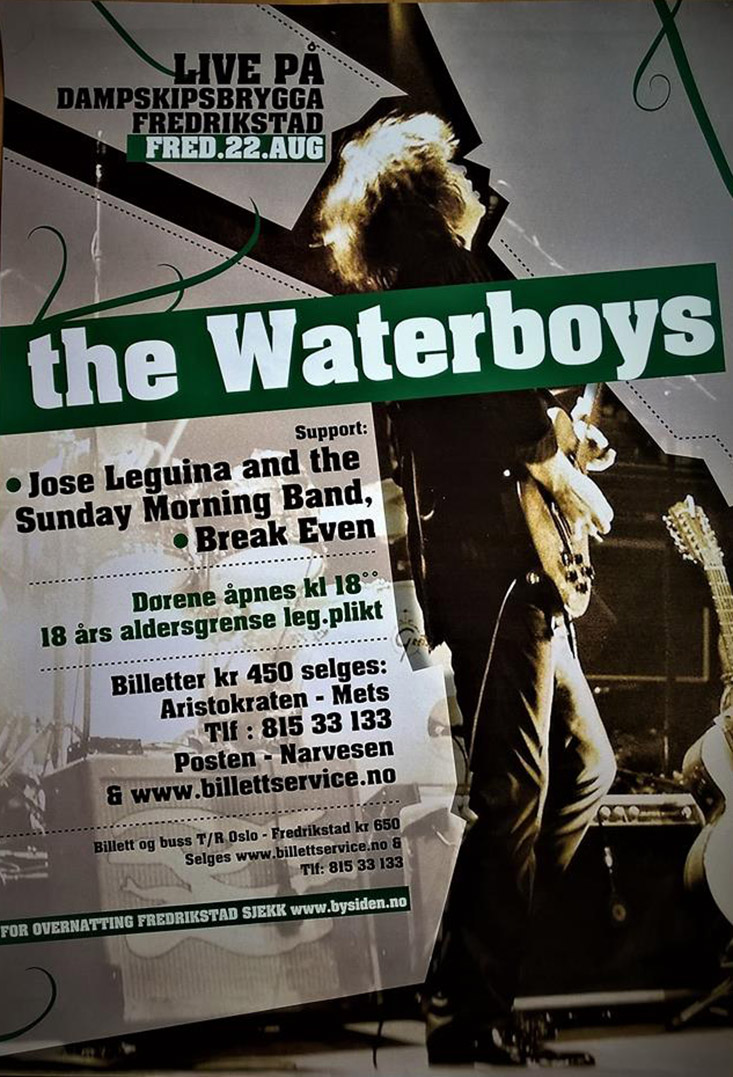 ☄ De Roma, Antwerp Tour Flyer 2015 ☄
A Tour flyer for the Antwerp show at De Roma on October 7th 2015. Thank you Patrice Sintzen and Carolina.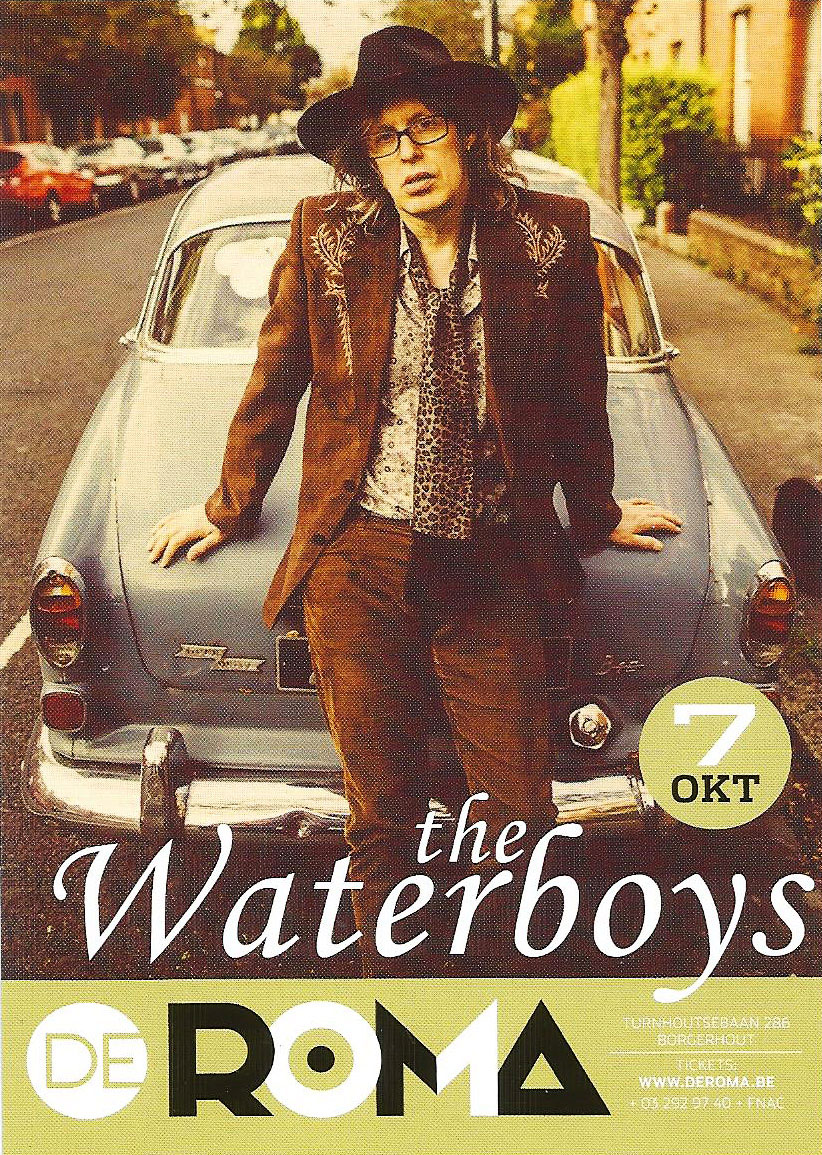 ☄ Concert Poster Art - Paris 2012 ☄
A very striking poster for The Waterboys show at Rock en Seine, Paris on August 26th 2012 by Bendik Kaltenborn.
To order a high quality Giclee Print directly from Bendik please...Click Here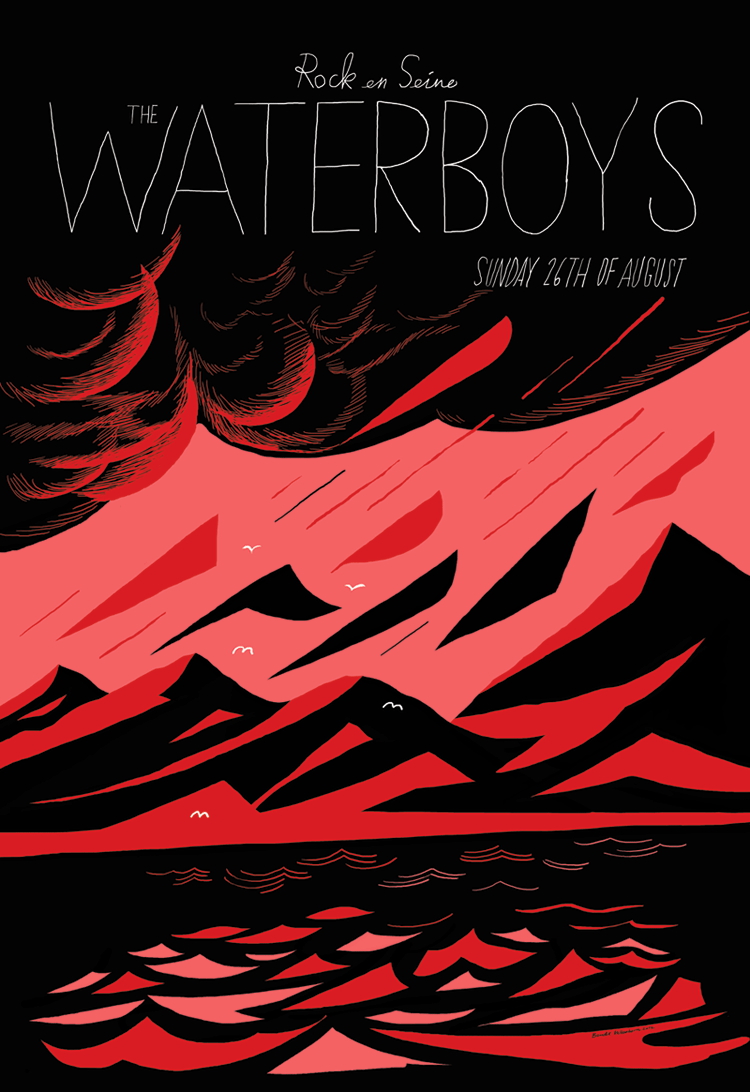 ☄ The Believer - July 2009 Edition ☄
This magazine comes with a free CD which contains a quite wonderful demo (which lasts for 10 minutes and 10 seconds) by Mike Scott of 'A Wild Holy Band' (an early version of 'Long Strange Golden Road') that is exclusive to this release.
Mike writes: 'I wrote this song in my bedroom in Scotland at six in the morning, just up, in a songwriting mood, trawling through old notebooks and journals from the late 1990s looking for any ideas that might be lying there forgotten. To my surprise, I found the first verse intact on the page of a journal. I must have written it some years before, and had only the dimmest memory of it. The verse suggested more words, a lyrical theme, and in my head I heard a tune. The song followed'.
This publication is quite difficult to find but it is well worth seeking out.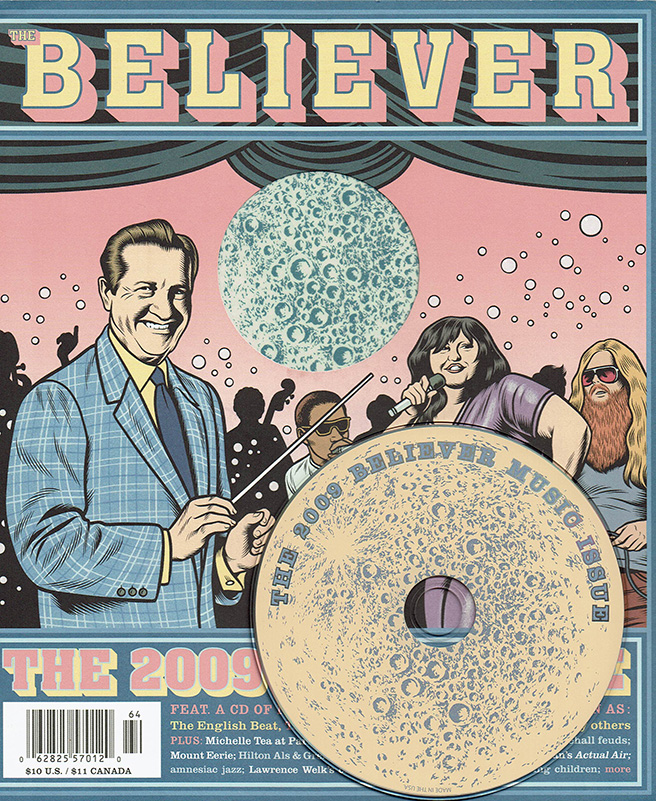 ☄ Rare Promo Album Postcards ☄
Here are a selection of rare and quite hard to find postcards that were issued at the time of each album release. Thank you Andy Pritchatt for these postcards.
☄ This is the Sea: ☄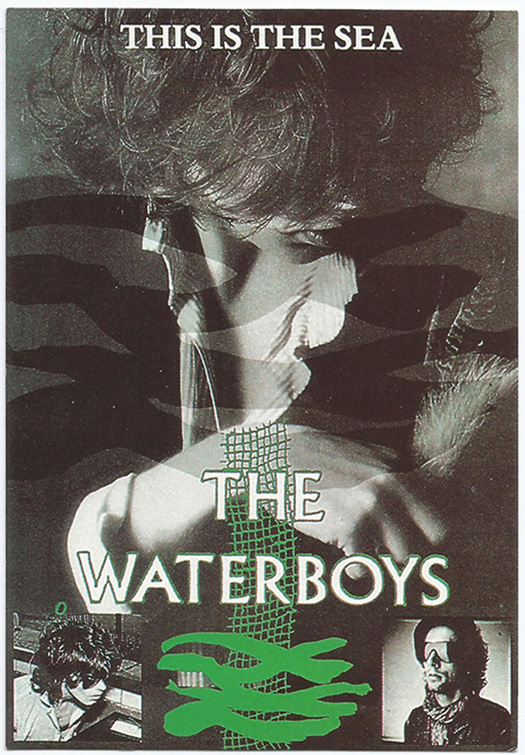 ☄ Fisherman's Blues: ☄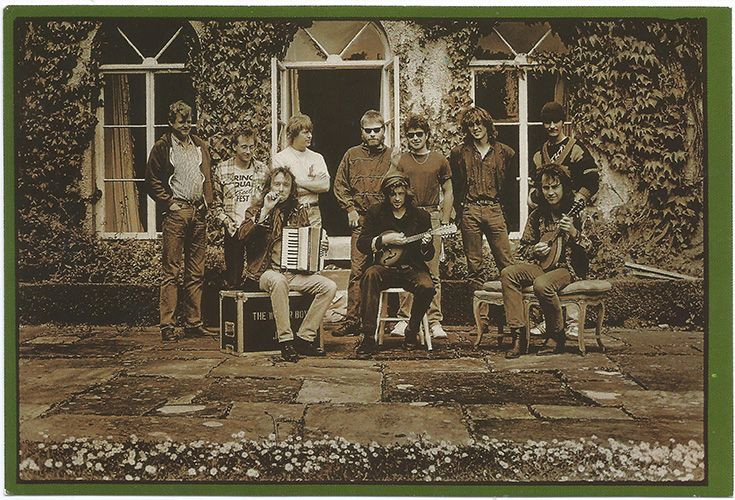 ☄ A Rock in the Weary Land - Set of 6: ☄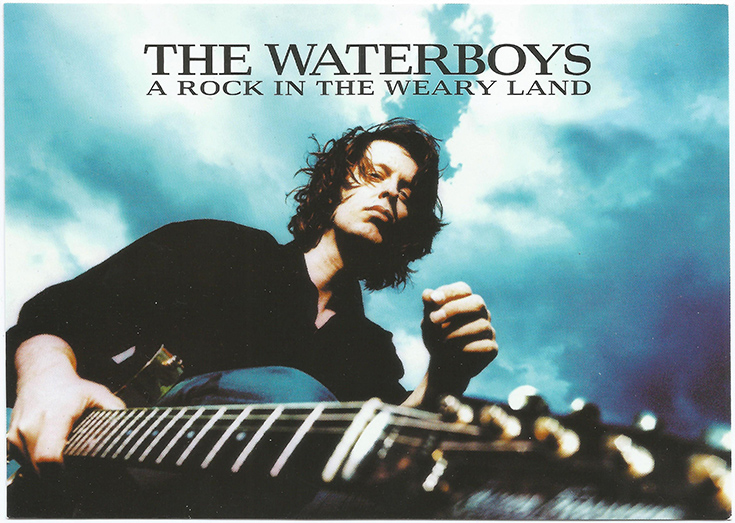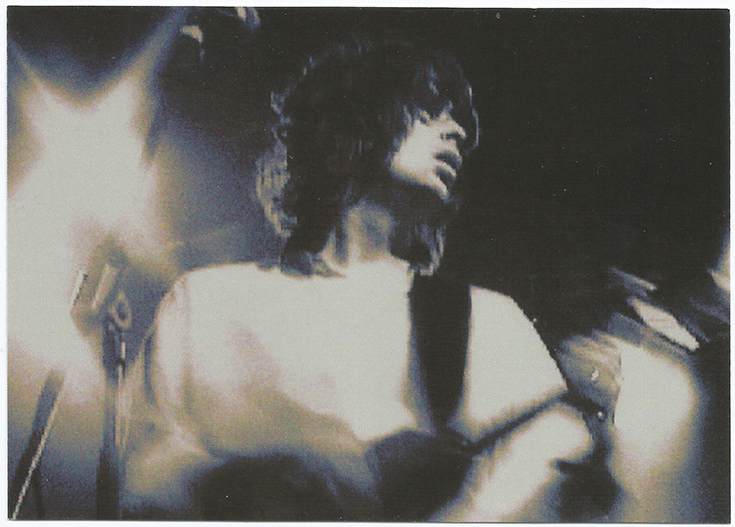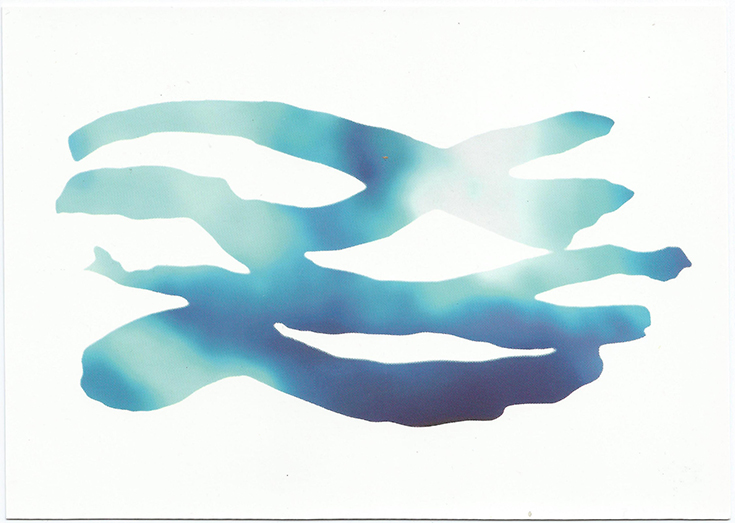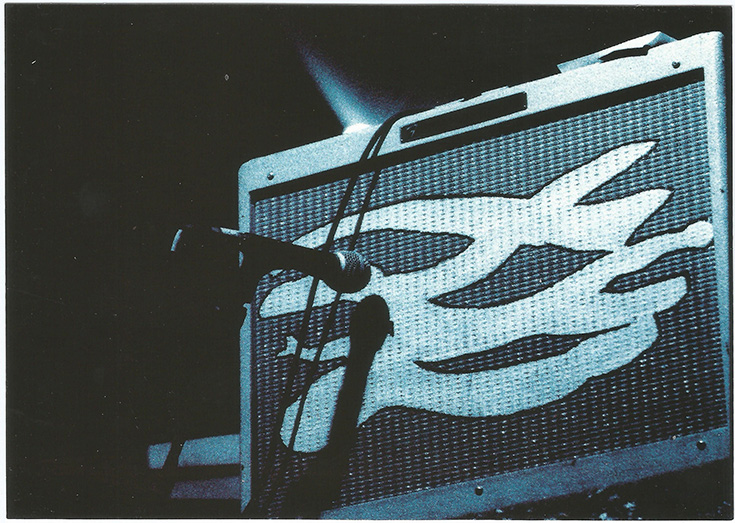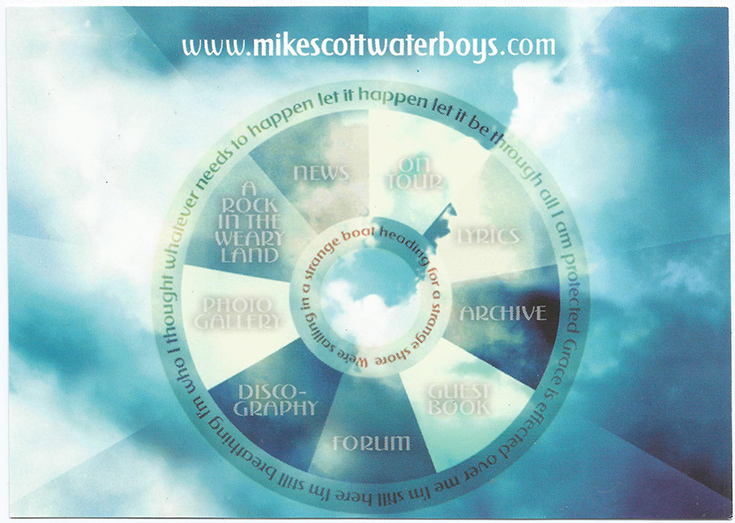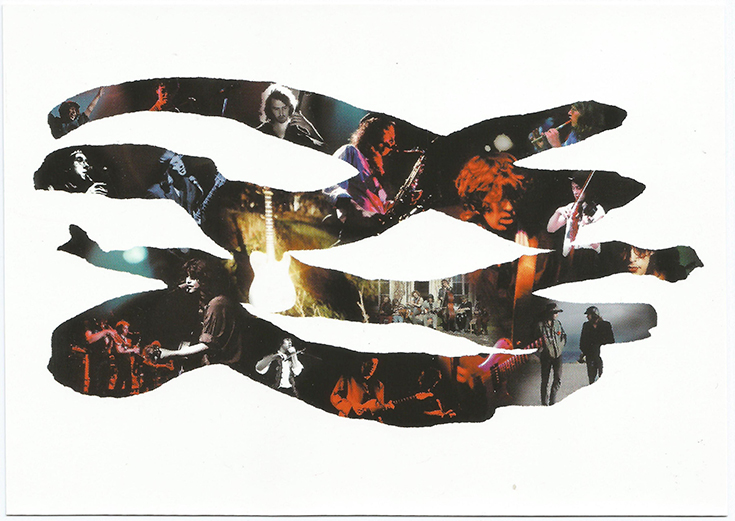 ☄ Book Reading Poster - Stroud 2012 ☄
A book Reading poster for an appearance in Stroud on October 14th 2012. Thank you Crispin Thomas.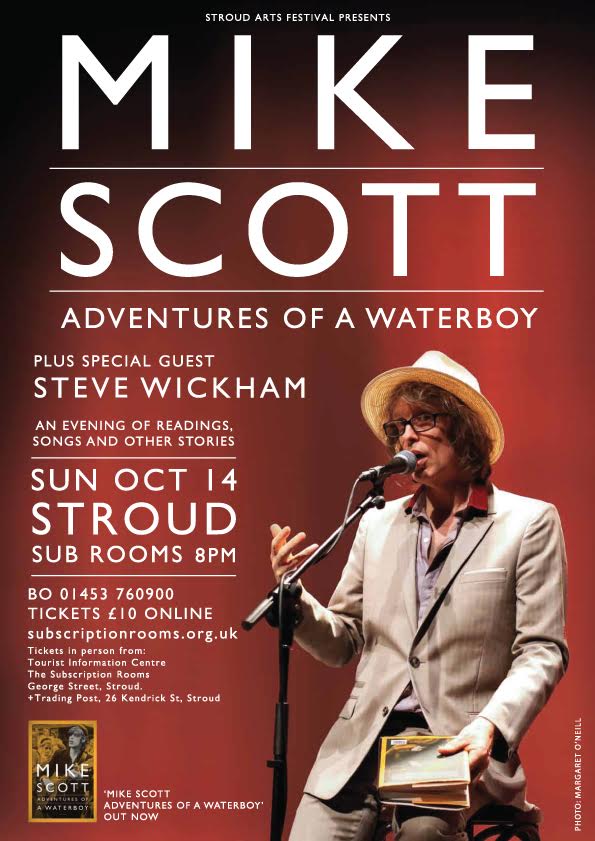 ☄ Tour Laminates ☄
All Access Tour Laminate passes from the Fisherman's Blues Tour in 1989 and the 'Weary Land' Tour in 2001. Thank You Andy Pritchatt.

☄ Glor, Ennis Fridge Magnet ☄
A rare fridge magnet from the Glor in Ennis County Clare that measures about 11 cm X 5 cm. Thank you David Newman.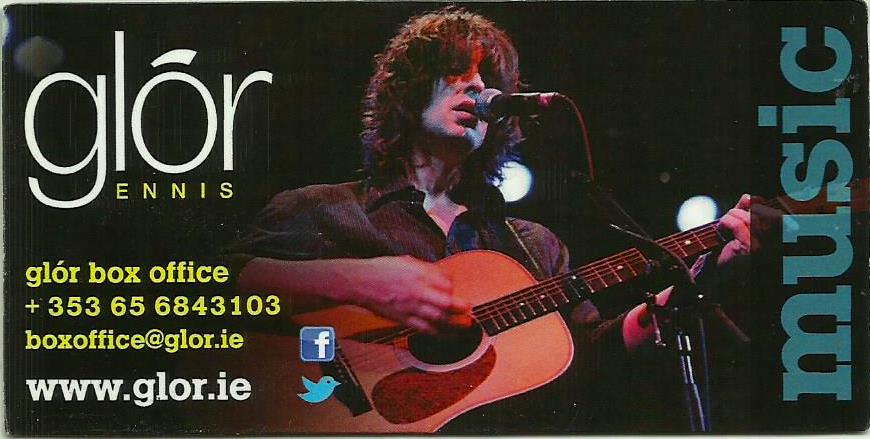 ☄ Ltd Edition Book of Lightning #217/600 ☄
A quite rare and very limited edition of the Book of Lightning Album. This was only issued to Press and Media. And only 600 copies were produced.
The cover is printed in a lovely matt finish.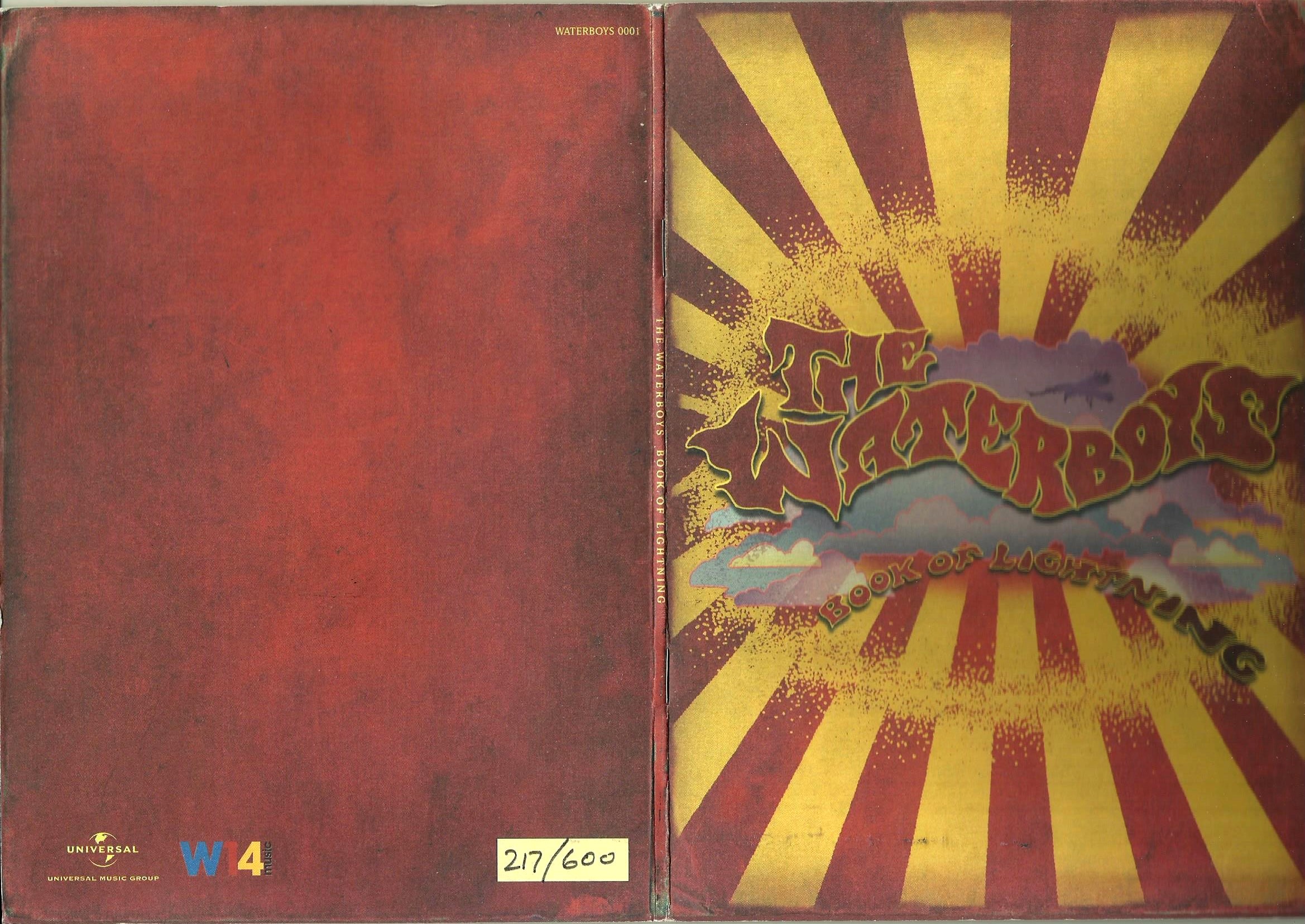 ☄ Ltd Edition Book of Lightning #217/600 ☄
This is the centre page spread with two vibrant images by Steve.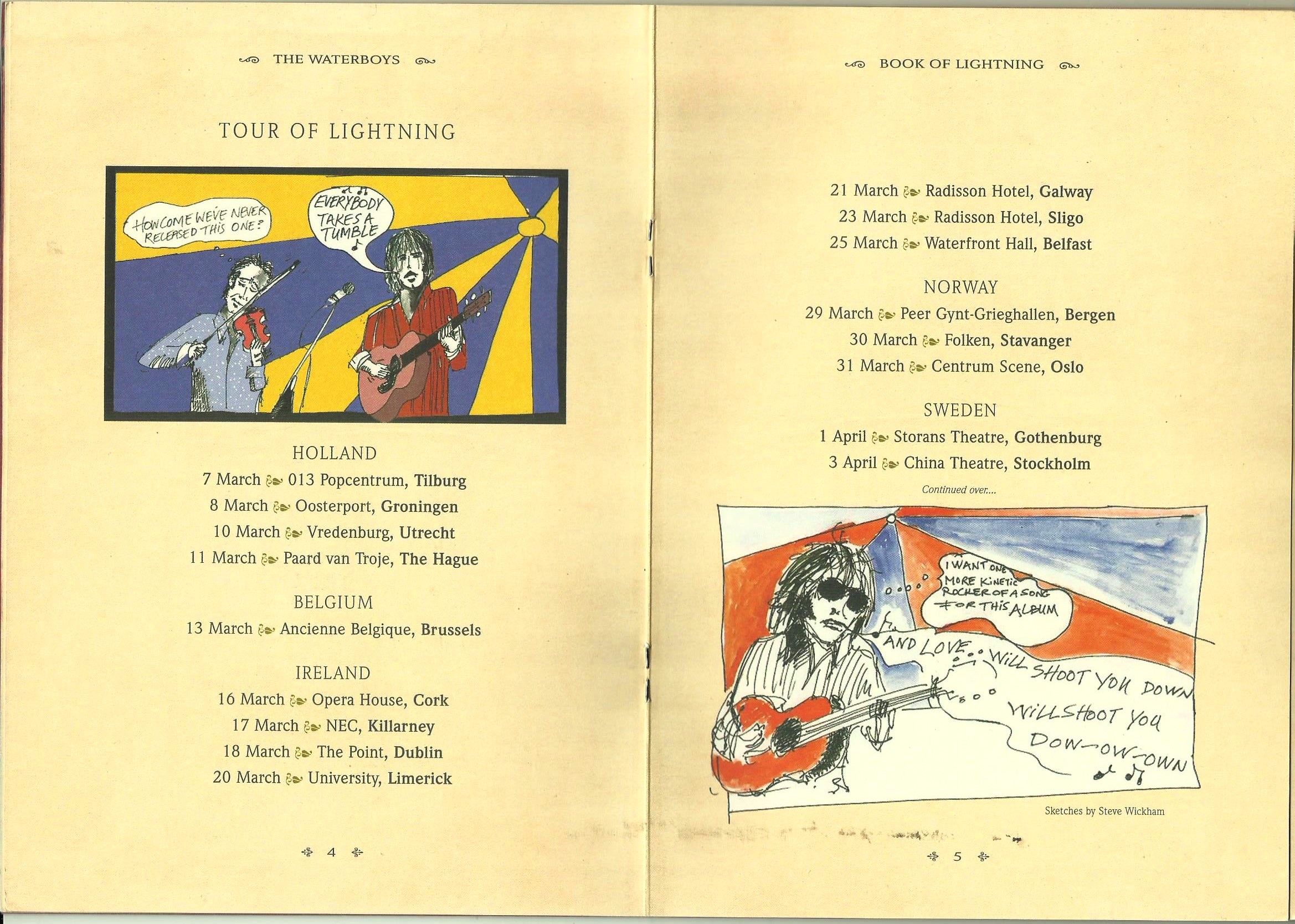 ☄ Ltd Edition Book of Lightning #217/600 ☄
The book contains a brief bio, the 2007 tour dates and an album discography. And each CD is individually numbered too.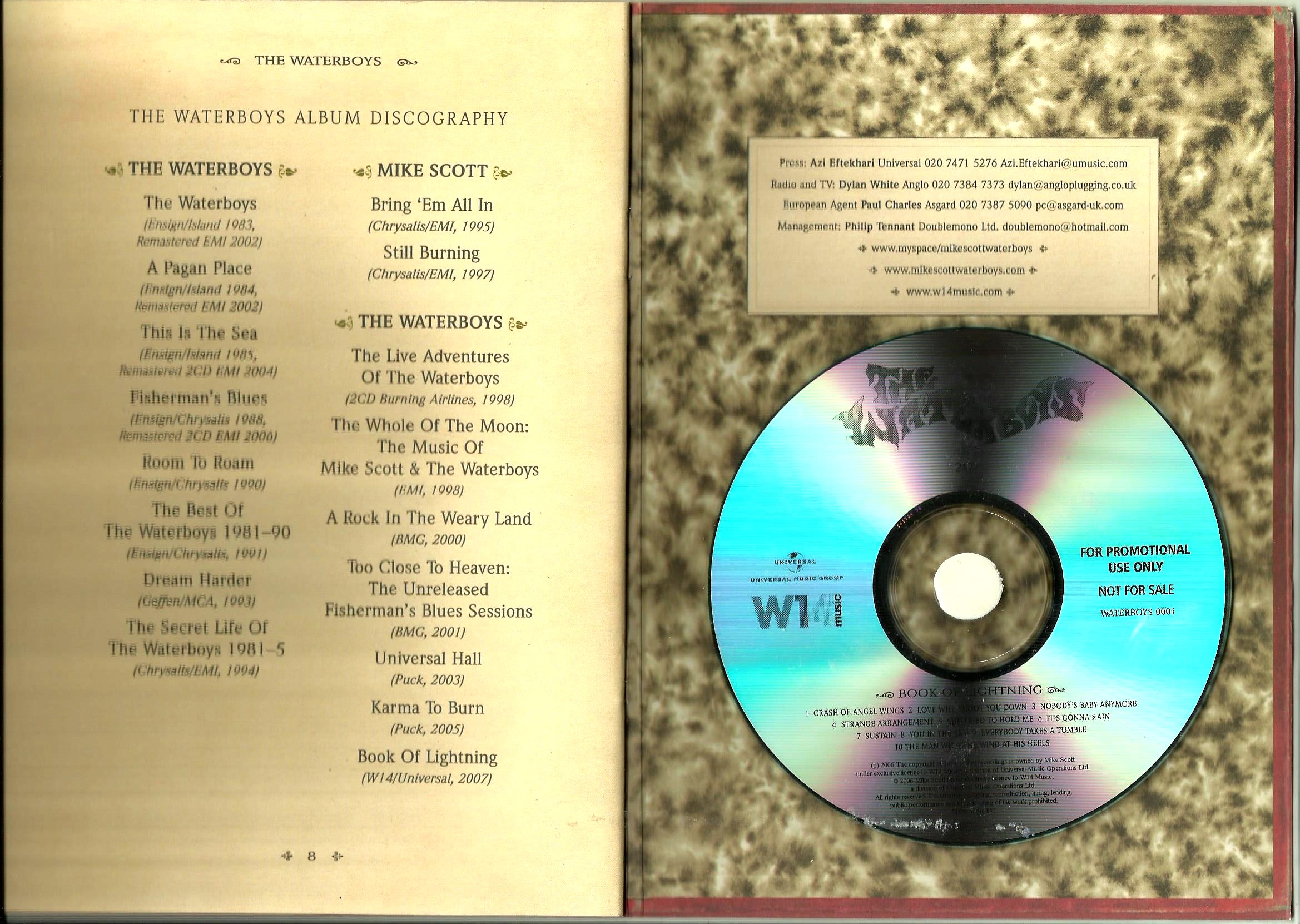 ☄ Gig Poster- Los Angeles, CA. - May 13th 2015 ☄
Poster from the Fonda Theatre where 'Medicine Bow' was played for the first time on the Modern Blues Tour and uniquely, for the first time with Mike on the piano! Thank you Mike Mixter.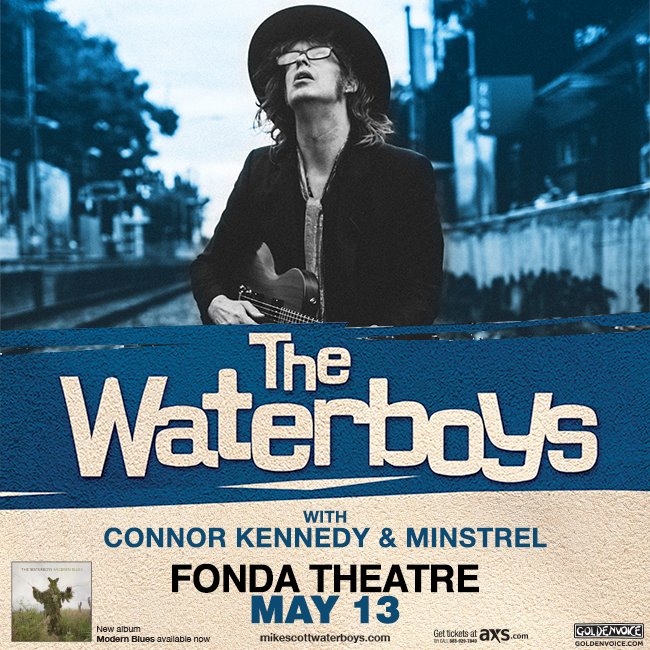 ☄ Original Gig Poster - Gaia, Portugal 2008 ☄
A large format original Concert poster for a show in Gaia, Portugal on March 14th 2008. Thank you Maria Viana.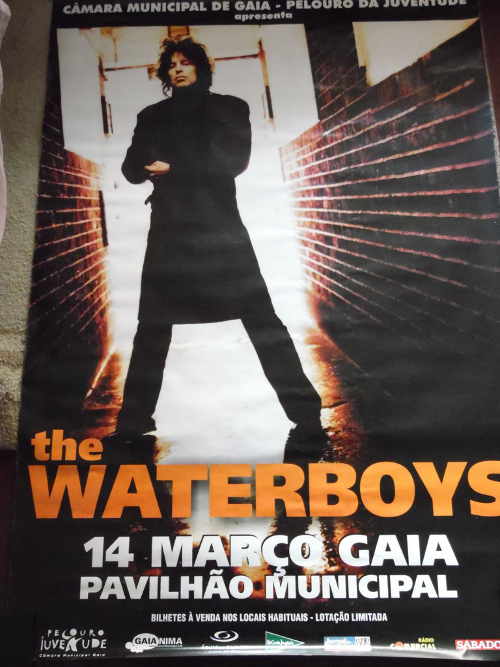 ☄ 'Caricature' Drawing By Mike Scott - 1987 ☄
A drawing of Joe Kingman by Mike Scott. Mike drew this caricature of Joe in Windmill Lane Studios Dublin in the spring of 1987 for an 'in studio' fanzine. Thank you Joe Kingman for this image.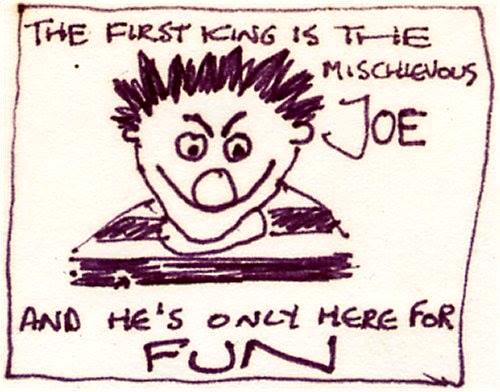 ☄ 'Another Pretty Face' Gig Poster - 1980 ☄
A very rare Another Pretty Face poster for a gig at Aberdeen, Queen's Cross Youth Club in the summer of 1980. The term "Kick It Over" was an APF slogan of the day. The support act on the day was TV 21. Thank you Joe Kingman.