This page contains the concert statistics for Mike Scott from 1976 - 2019 and also for The Waterboys from 1984 - 2019.
* The information contained within this web page was provided by Mike Scott from his own personal archive.
So a big Thank You to Mike for his kindness in sharing his personal records and for allowing these statistics to be published here for the first time in such a comprehensive and accurate form.
And also a special thank you to Crispin Thomas for his invaluable help and support in the creation of this page.
☄ Mike Scott Complete Concert Statistics 1976 - 2019 ☄
This chart covers all concerts by Mike Scott with his various bands and solo from his first-ever shows in 1976 to the end of 2019.
It includes all his early shows 1976-78, the Another Pretty Face shows 1979-81, and those by Funhouse and The Red And The Black in 1982.
It includes the complete Waterboys shows from 1984-90 and 2000 to 2019, plus all Mike's solo shows from 1991 to 1999.
Also included are the solo readings by Mike for his 'Adventures of a Waterboy' autobiography.
Of the 34 readings worldwide, 24 were with Steve Wickham and these are included in The Waterboys statistics for these years.
The grand total of all shows combined is 1552.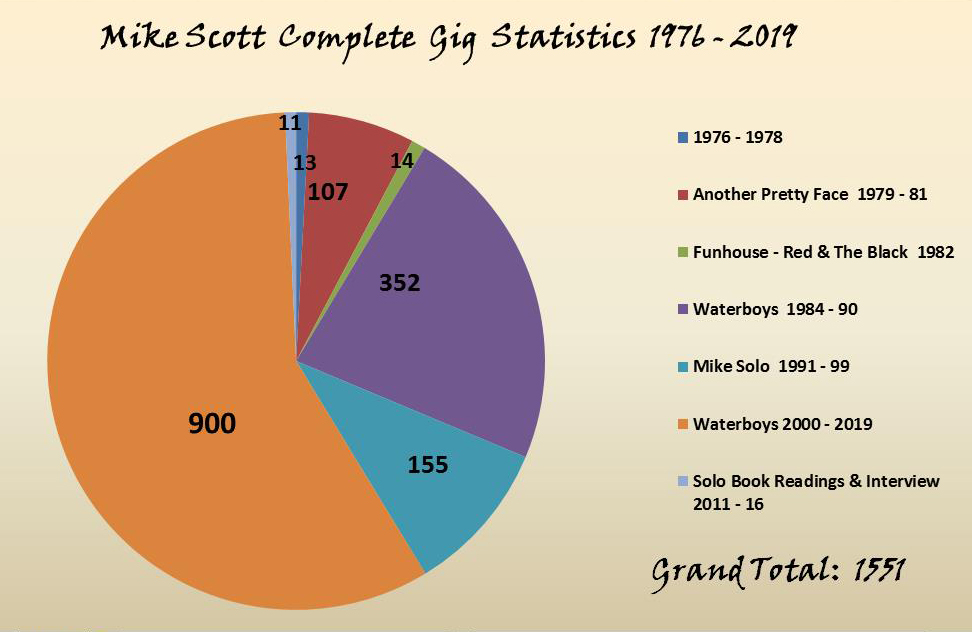 ☄ The Waterboys Concert Statistics 1984 - 1990 / 2000 - 2019 ☄
These Charts cover ALL of The Waterboys Concerts from 1984 to 1990 and from 2000 to 2019.
The 1000th Waterboys show was on April 4th 2015 at The Byron Bay Blues Festival!
The year with the largest number of shows (to date) is 2015.
There were a total of 107 shows on the Modern Blues Tour, with the first three gigs of the tour in December 2014.
The grand total of all of The Waterboys concerts from 1984 to the end of 2019 is 1252 shows!
The Arena one hour radio special in RTE (Irish National Broadcaster) Studios, in front of a small invited audience on 28th October 2017, is included in the 2017 statistics.
A private show in Kristiansand, Norway in July 2018 is also included.
The New Year's Eve 2019 broadcast on Irish TV in front of an invited audience is included in the 2019 statistics.
* This information will be updated when all of the 2021 shows have occurred. *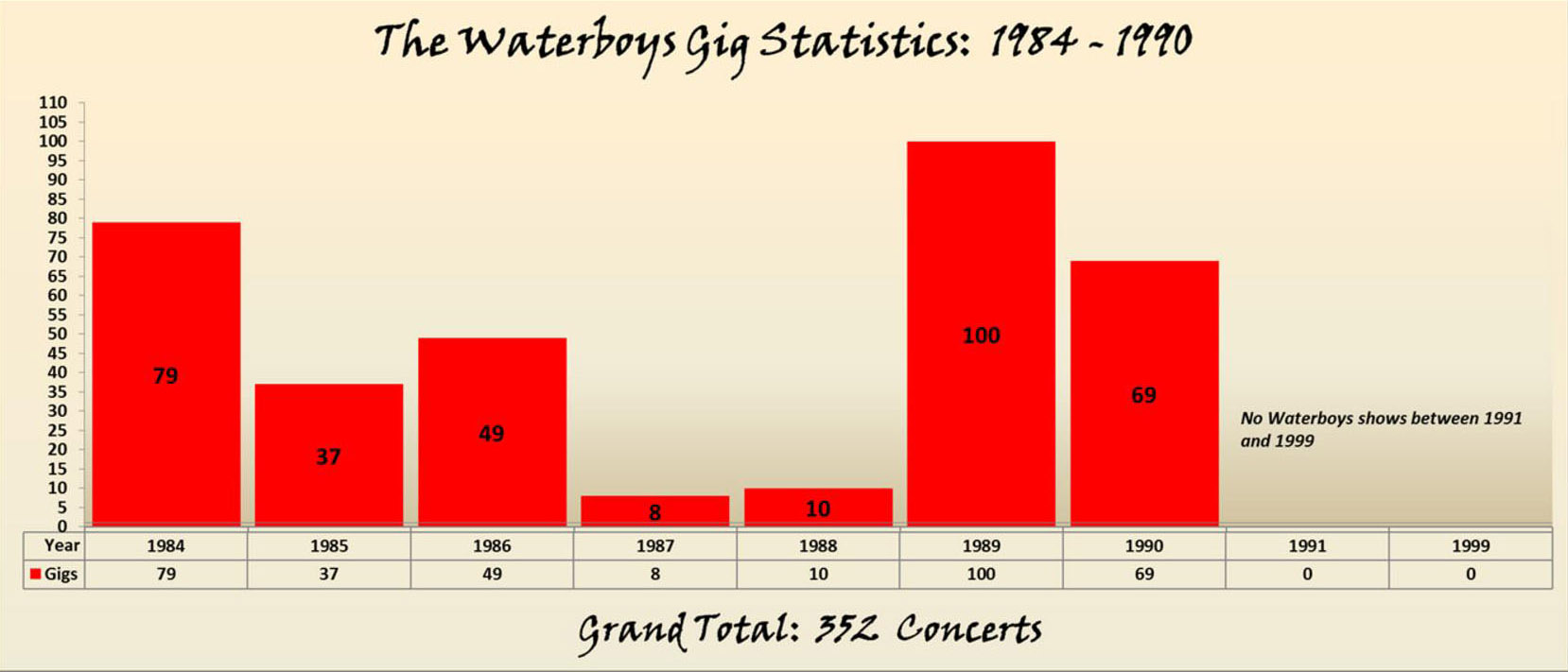 ☄ Mike Scott Concert Statistics 1991 - 1999 ☄
This Chart covers the Mike Scott shows from 1991 to 1999.
The grand total of gigs for these years is 155 shows.
* Guest appearances by Mike at other Artists' gigs are not included in these listings.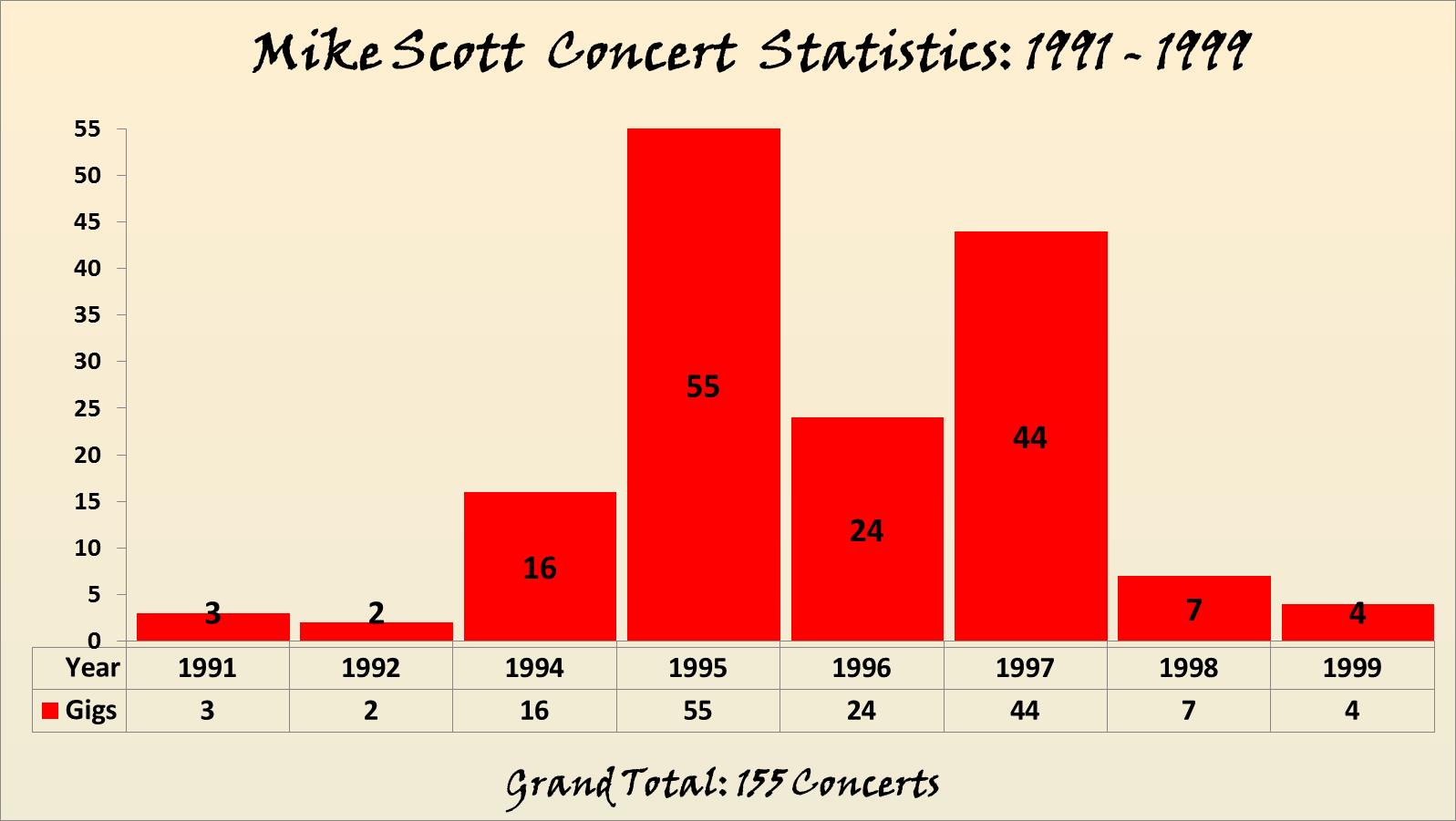 ☄ Eight Present & Past Waterboys Gig Stats: 1984 - 2019 ☄
This Chart shows the gig statistcs of present and past band members of The Waterboys.
They are Mike, Steve, Ralph, Brother Paul and Aongus, and past members Anto, Trevor and Richard.
Ralph played his first concert with the band in the RCH, Glasgow on January 30th 2011.
Brother Paul played his first gig with Mike and Steve on the Wood Songs Old Time Radio Hour live radio show on March 11th 2013.
The first full-band show Brother Paul played was in Limerick, Ireland on December 3rd 2014.
The first appearance by Aongus with The Waterboys was on the live Irish TV programme, The Late Late Show in Dublin on October 2nd 2009.
The first show Aongus played as a full-time band member was in Oslo, Norway on June 23rd 2017.


* This information will be updated when all of the 2021 shows have occurred. *