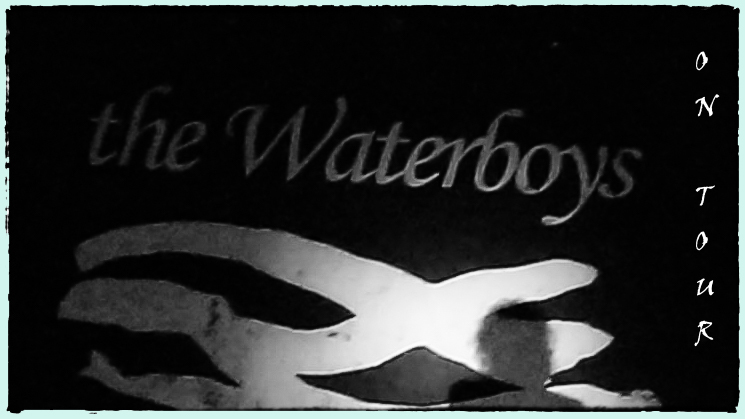 ☄ The Waterboys & Mick Puck Facebook Group ☄
The newest and best Facebook group The Waterboys & Mick Puck was created by two genuine lifelong admirers of the band.
This group was created for YOU the fan as a place of friendships where your opinion and input are greatly valued.
You will find all the latest news, photos, videos, memorabilia, Exclusive Group Competitions and much more besides. The page is already laden with previously unseen treasures that will not be found anywhere else online, with much more to come.
So why not join us and be a part of something truly special! The Waterboys & Mick Puck - Facebook Group - Click Here!
On The Road 2017 Photo album Here! Click Here!
Photo of Fans with Band Members are here..
Waterboys / Mike Scott / Fan Photos
To see some various pieces of official merchandise from previous Tours please click the link..Older Tour Merchandise
☀ Waterboys Tour Dates 2022

*

☀
This table shows the latest tour dates and rescheduled dates for 2022.
This is the tour itinerary, with ticket links, of all of the confirmed dates thus far.
Go and see this Band in a venue near you as satisfaction is certainly guaranteed!
* Due to the ongoing pandemic some dates may be postponed.
Latest updates will be posted here as soon as they are known. *
Date
Venue
Location
Country
Tickets
August 14th 2021
Audley End Stately Home
Saffron Walden, Essex
England

September 3rd 2021
Moseley Folk & Arts Festival
Moseley Park, Birmingham
England

October 2nd 2021
North Music Festival
Porto
Portugal

Postponed

October 8th 2021
Regent Theatre
Ipswich
England

October 9th 2021
York Barbican
York
England

October 10th 2021
City Hall
Sheffield
England

October 12th 2021
Stockton Globe
Stockton
England

October 13th 2021
MECA
Swindon
England

October 14th 2021
De La Warr Pavillion
Bexhill
England

October 16th 2021
Pavillion Theatre
Bournemouth
England

October 17th 2021
St Davids Hall
Cardiff
Wales

October 18th 2021
Sub Rooms
Stroud
England

October 19th 2021
Bridgewater Hall
Manchester
England

October 21st 2021
G Live
Guildford
England

October 22nd 2021
The Forum
Bath
England

October 23rd 2021
The Roundhouse
London
England

October 25th 2021
Royal Philharmonic
Liverpool
England

October 27th 2021
Sage
Gateshead
England

October 28th 2021
Music Hall
Aberdeen
Scotland

October 29th 2021
Barrowland
Glasgow
Scotland

October 30th 2021
Barrowland
Glasgow
Scotland

October 31st 2021
Fomhair Festival
Gweedore
Donegal, Ireland

Cancelled for Safety Reasons

NEW DATE: June 18th 2022

Black Deer Festival
Eridge Park, Kent
England

Click Here!

NEW DATE: July 9th 2022

Cornbury Music Festival
Great Tew Park, Oxfordshire
England

Click Here!

NEW DATE: August 7th 2022

Wickham Festival
Wickham, Hampshire
England

Click Here!

NEW DATE: August 12th 2022

Revival Festival
Listowel, County Kerry
Ireland

Click Here!

NEW DATE: September 15th 2022

La Riviera
Madrid
Spain

Click Here!

NEW DATE: September 16-17th 2022

Visor Festival
Murcia
Spain

Click Here!

NEW DATE: November 25th 2022

Kirstenbosch Botanical Garden
Cape Town
South Africa

Click Here

NEW DATE: November 27th 2022

Casalinga Organic Farm
Johannesburg
South Africa

Click Here




☝ Back To Top